WHERE ARE THE ONE VILLAGE, ONE DAM, ONE FACTORY, ONE DISTRICT? – NDC DEMANDS
WHERE ARE THE ONE VILLAGE, ONE DAM, ONE FACTORY, ONE DISTRICT? – NDC DEMANDS.
The National Democratic Congress (NDC) is demanding some answers and results to key government promises made in the heat of the 2016 elections.
The party at a news conference Thursday is asking about the status of the free senior high school (SHS); one district, one factory and one dam, one village projects.
The opposition believes these promises, if fulfiled could lead to the development of the country.
The governing New Patriotic Party (NPP) made a plethora of promises to Ghanaians in the run up to the 2016 general elections.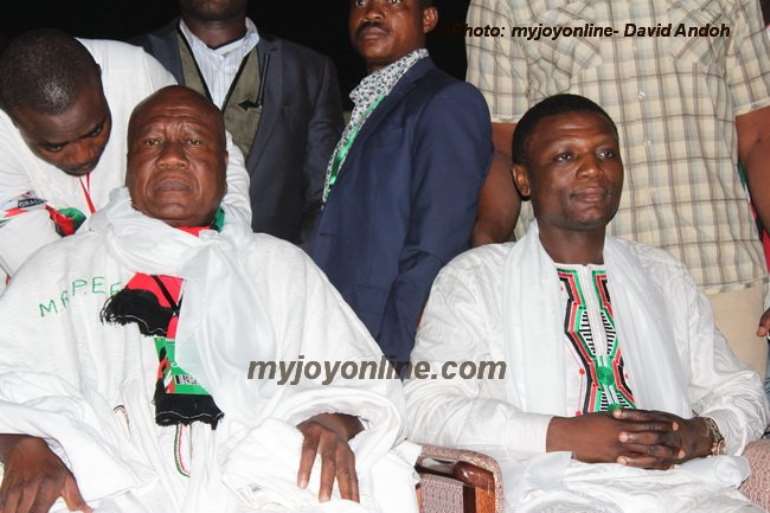 NDC National Chairman, Kofi Portuphy and National Organiser, Kofi Adams
As part of its alternative policies to improve the lives of the citizens, the party promised to site a dam in every village in the three regions of the North.
The NPP also promised to cure the nation's default reliance on importation by constructing factories in all 216 districts as part of its industrialization programme.
But six months into the government of President Nana Addo Dankwa Akufo-Addo, the NDC is worried there are no visible signs of those promises and is demanding answers about the status of those promises.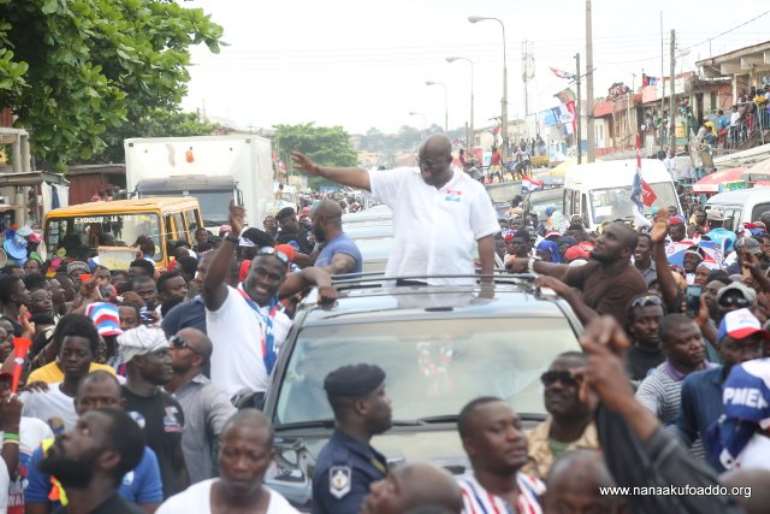 Then NPP Presidential Candidate, Nana Addo Dankwa Akufo-Addo on campaign tour
NDC National Chairman, Kofi Portuphy said the citizens had expected the NPP to "swing the magic wand and turn Ghana into a paradise within 100 days."
This, he said has not happened despite the sweet talk of the President when he was in opposition.
"Where is the one dam, one village; one factory, one district…Where is the restoration of training teachers and nursing allowance?" Mr Portuphy asked.
Ghanaian character, Kwaku Ananse
He compared President Akufo-Addo to a character in Ghanaian folklore called Kwaku Ananse.
Mr Portuphy described him as "most intelligent and shrewdest person but ends up scampering to hide his embarrassment in his web."
The President met with some news editors on Tuesday to give account of his government in the last six months.
A wide range of issues were asked of him, key among them was job creation. Although President Akufo-Addo had explained he will not be able to mention the number jobs his government's had created in six months but can only do so after 18 months-time, the NDC said he was dodgy.
"The President may have succeeded in skirting around his promises when he met the press but he and his NPP cannot skirt around the true verdict of the majority of Ghanaians that Akufo-Addo and Bawumia have failed woefully as managers of the affairs of the state," Mr Portuphy.
Story by Ghana | Myjoyonline.com | Austin Brakopowers | Austin.powers@myjoyonline.com | Instagram: @realbrakopowers
DISCLAIMER: "The views expressed in this article are the sole responsibility of the author and do not neccessarily reflect those of  Ghana Media World. The contents of this article are of sole responsibility of the author(s).  Ghana Media World will not be responsible or liable for any inaccurate or incorrect statements contained in this article." © GHANAMEDIAWORLD.COM
HAVE A SAY. WHAT DO YOU THINK? DROP COMMENTS!
SOURCE:  WWW.GHANAMEDIAWORLD.COM
@ghanamediaworld on Twitter / lnstagram  ghanamediaworld
Do you have a story for The Ghanameiaworld Online news team? Email us at ghanamediaworld@gmail.com Or call us:
THE NEWS ITEMS ARE REAL  AND WE ARE NOT FAKE MEDIA,WE ARE HERE  FOR YOU  BECAUSE OF  TRUELY MEDIA. IF NOT BECAUSE OF YOU, WE CANNOT BE GHANA MEDIA WORLD. OR WHAT WE HAVE REACH TO BE NOW.WE PUBLISH WHAT IS TRUELY INSIDE THE MEDIA OF THE WORLD FROM JOURNALIST NEWS,MEDIA NEWS AND FROM THE PEOPLE WE GET THE REAL NEWS FROM AND TO GHANA MEDIA WORLD, WITHOUT HIDDEN THINGS FROM YOU AND FROM THE TRUTH THAT WE GET FROM MEDIA AND JOURNALIST.AND ALSO SOMEWHERE WE GET TO KNOWN.OUR MEDIA PAGE IS STILL NOT COMPLETED,THERE IS A LOTS TO BE DONE IN GHANA MEDIA WORLD PAGE.FOR THE MEAN TIME WE PUBLISHED NEWS,WE ADVERTISE FOR PEOPLE,ETC.LISTEN TO MANY RADIO STATIONS IN OUR PAGE BY CLICK.
READ MORE @ WWW.GHANAMEDIAWORLD.COM
CONTACT OF MEDIA AND ADVITISED IN OUR WEBPAGE ,IF YOU NEED PROFECTIONALS RADIO STATION LIVE STREAMING FOR BROADCASTING TOOLS PLUS WEBPAGE,DOMAIN,WE ARE NUMBER ONE PROFECTIONALS TO HELP YOU,FOR QUETIONS,DONATIONS,CONTACT OUR E-MAIL ADDRESS  ghanamediaworld@gmail.com
SHARE OUR PAGE AND LIKE US IN FACEBOOK,INSTAGRAM,WHATSAPP,PINTEREST,YOUTUBE,LINKEDIN.
WE ARE NUMBER ONE TRUELY MEDIA.
Comment Below
comments