'VOODOO' NURSE JAILED FOR SEX TRAFFICKING.
'VOODOO' NURSE JAILED FOR SEX TRAFFICKING.
A London-based nurse has been jailed for trafficking Nigerian women into Germany to work as prostitutes after subjecting them to "voodoo" rituals.
Josephine Iyamu forced the five women to swear oaths to hand over money to her during "juju" ceremonies.
Iyamu, 51, formerly of Bermondsey, was convicted of arranging or facilitating travel for sexual exploitation and perverting the course of justice.
She was jailed for 14 years at Birmingham Crown Court.
She was also convicted of perverting the course of justice while on remand, by arranging for relatives of her victims in Nigeria to be arrested.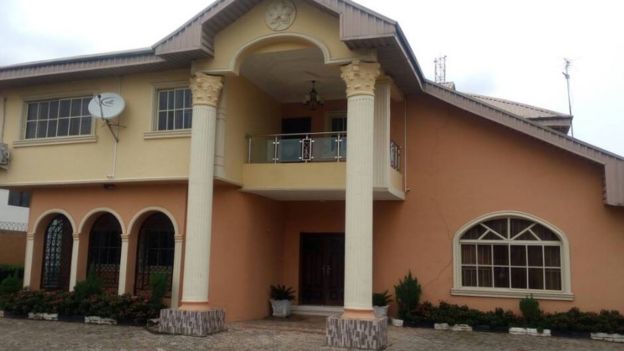 The court heard the women were forced to eat chicken hearts, drink blood containing worms, and have powder rubbed into cuts during the rituals.
Sentencing, Judge Richard Bond said the 51-year-old had shown "a complete disregard for the welfare of these women".
He said she had exposed them to a "real and significant" risk of death as they travelled across the Mediterranean on inflatable boats.
All five women had been rescued from the boat they were on, before being put into a camp in Italy.
Iyamu was born in Liberia but became a British citizen in 2009 having been allowed to stay in the UK due to her nursing qualifications.
She was known to have declared a modest income of about £4,500 in 2016/17 from her work as an NHS agency nurse.
However, investigators discovered she spent thousands on international air travel and owned a large home in Benin City, Nigeria, complete with servants' quarters.
Her husband, 60-year-old Efe Ali-Imaghodor, was acquitted of doing acts intending to pervert the course of justice.
SOURCE: BBC.
FOR ADVERTISED IN OUR WEBPAGE  CONTACT  ghanamediaworld@gmail.com  OR visit www.ghanamediaworld.com
WE PUBLISHED 99% GHANA NEWS AND THE REST 1%  FOR OUTSIDE WORLD NEWS, GHANA FIRST,PUBLISHED  YOUR OWN FIRST TO WIN BETTER FUTURE WITH OUTSIDE WORLD LETS THEM SPEAKS YOUR OWN MOTHER LANGUAGES BEFORE THEY AQUIRE A VISA TO VISIT OUR MOTHERLAND COUNTRY GHANA. ENGLISH IS COMMON FOR EVERY COUNTRY IN THIS TO BE SPOKEN….BUT IN TERMS OF THINGS OF LANGUAGE,YOU DONT KNOWS THEM UNTIL THE TRUTH…..
DISCLAIMER: "The views expressed in this article are the sole responsibility of the author and do not neccessarily reflect those of  GhanaMediaWorld. The contents of this article are of sole responsibility of the author(s).  Ghana Media World will not be responsible or liable for any inaccurate or incorrect statements contained in this article." © GHANAMEDIAWORLD.COM
HAVE A SAY. WHAT DO YOU THINK? DROP COMMENTS!
SOURCE:  WWW.GHANAMEDIAWORLD.COM
@ghanamediaworld on Twitter / lnstagram  ghanamediaworld
Do you have a story for The Ghanameiaworld Online news team? Email us at ghanamediaworld@gmail.com Or call us:
THE NEWS ITEMS ARE REAL  AND WE ARE NOT FAKE MEDIA,WE ARE HERE  FOR YOU  BECAUSE OF  TRUELY MEDIA. IF NOT BECAUSE OF YOU, WE CANNOT BE GHANAMEDIAWORLD.COM OR WHAT WE HAVE REACH TO BE NOW.WE PUBLISH WHAT IS TRUELY INSIDE THE MEDIA OF THE WORLD, FROM JOURNALIST NEWS,MEDIA NEWS, STARS NEWS, PERSONAL PRIVATE ADVERTISED AND CELEBRATIES NEWS,AND FROM THE PEOPLE WE GET TO KNOW,THE REAL NEWS FROM AND TO GHANA MEDIA WORLD, WITHOUT HIDDEN THINGS FROM YOU AND FROM THE TRUTH THAT WE GET FROM MEDIA AND JOURNALIST.AND ALSO SOMEWHERE WE GET TO KNOWN.OUR MEDIA PAGE IS STILL NOT COMPLETED,THERE IS A LOTS TO BE DONE IN GHANA MEDIA WORLD PAGE ONLINE. PUBLISHED NEWS,WE ADVERTISE FOR PEOPLE,ETC.LISTEN TO MANY RADIO STATIONS IN OUR PAGE BY CLICK.
READ MORE @ WWW.GHANAMEDIAWORLD.COM
CONTACT OF MEDIA AND ADVITISED IN OUR WEBPAGE ,IF YOU NEED PROFECTIONALS RADIO STATION LIVE STREAMING FOR BROADCASTING TOOLS PLUS WEBPAGE,DOMAIN,WE ARE NUMBER ONE PROFECTIONALS TO HELP YOU,NEWS,RADIOS,MEDIA,MAGAZINES,ADVERTISMENTS.LIVE STREAMING PROVIDER.
WE ARE HUGE BIG COMPANY.
ONLINE RADIO SETUP FOR YOUR FM STATION ONLINE.
FOR YOUR ONLINE RADIO – Also for Your Media , FM Station, Church or As well as online Internet Radio Station.
We do it profectional.Its is your dream to set up an online radio station that will turn you into a major media hub in this country and the world as well as to enable promote your goods and services Globally.Then contact us immediately at ghanamediaworld@gmail.com or call us 004915218034976 OR 004917648327355.
We are running an express and affordable online radio set up for all.
Contact us and have a feel of what it feels to own an online radio and what we have for you.
Call or Whats App 004915218034976 NOW
THE ONLINE RADIO STATION DEVELOPED BY GHANAMEDIAWORLD.COM
CONTACT OUR E-MAIL ADDRESS  ghanamediaworld@gmail.com
SHARE OUR PAGE AND LIKE US IN FACEBOOK,INSTAGRAM,WHATSAPP,PINTEREST,YOUTUBE,LINKEDIN.
WE ARE NUMBER ONE TRUELY MEDIA.
Comment Below
comments