(VIDEO) GOOGLE OFFICIALLY REVEALS ITS LATEST ROBOT
(VIDEO) GOOGLE OFFICIALLY REVEALS ITS LATEST ROBOT.
If there were an Olympics for robots, Boston Dynamics appears ready to enter.
The Google-owned robotics company officially unveiled its latest robot, Handle, in a YouTube video posted Wednesday that immediately captivated the Internet. Handle, which stands 6-foot-6, looks vaguely human with a torso, arms and legs that have wheels instead of feet.
Boston Dynamics described the combination of legs and wheels as the best of both worlds. The wheels make Handle energy efficient on flat surfaces. (It has a 15-mile range on one charge.) With legs it's able to manage uneven terrain, and go nearly anywhere.
Related: Google shows off 'nightmare-inducing' robot
Handle shows an unusual amount of grace for a hulking robot. In the video Handle rolls down steps, jumps over barriers and onto tables. It boasts a vertical leap of 48 inches, which compares favorably to great human athletes like the winners of the NBA's dunk contest.
In the 96-second video, Handle also shows speed and agility. It can quickly accelerate to 9 miles per hour. Handle is also capable of carrying heavy loads, displaying its strength in one clip in which it lifts 100 pounds.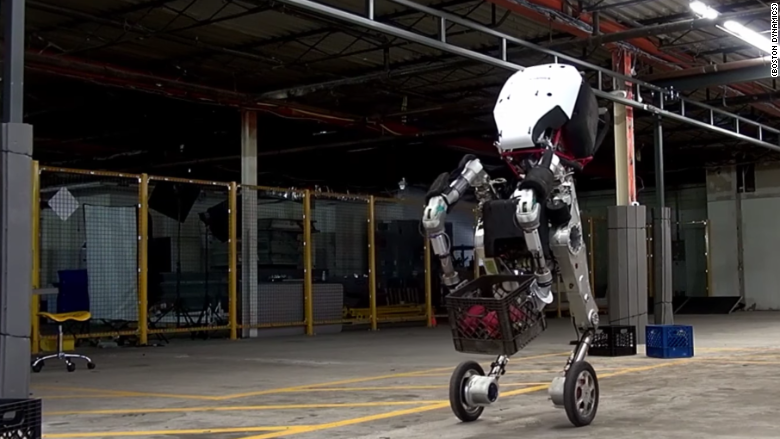 But don't get too excited — the robot is still a research project. It's unclear when, or if ever, we'll see the robot operating in the real world. Boston Dynamics has long released eye-catching videos of its robots performing all sorts of feats. Building a robot that's capable of working safely and effectively near humans is far more difficult than producing a slick demo video.
Handle first surfaced earlier this month, when a Silicon Valley investor posted footage of Handle that aired at a private event.
"This is the debut presentation of what I think will be a nightmare-inducing robot, if you're anything like me," Boston Dynamics CEO Marc Raibert told the crowd at the time, drawing laughter.
BY MATT MCFARLAND. @mattmcfarland  FROM CNNMONEY (WASHINGTON )
HAVE A SAY. WHAT DO YOU THINK? DROP COMMENTS!
SOURCE:  WWW.GHANAMEDIAWORLD.COM
@ghanamediaworld on Twitter / lnstagram  ghanamediaworld
THE NEWS ITEMS ARE REAL  AND WE ARE NOT FAKE MEDIA,WE ARE HERE  FOR YOU  BECAUSE OF  TRUELY MEDIA. IF NOT BECAUSE OF YOU, WE CANNOT BE GHANA MEDIA WORLD. OR WHAT WE HAVE REACH TO BE NOW.WE PUBLISH WHAT IS TRUELY INSIDE THE MEDIA OF THE WORLD FROM JOURNALIST NEWS,MEDIA NEWS AND FROM THE PEOPLE WE GET THE REAL NEWS FROM AND TO GHANA MEDIA WORLD, WITHOUT HIDDEN THINGS FROM YOU AND FROM THE TRUTH THAT WE GET FROM MEDIA AND JOURNALIST.AND ALSO SOMEWHERE WE GET TO KNOWN.OUR MEDIA PAGE IS STILL NOT COMPLETED,THERE IS A LOTS TO BE DONE IN GHANA MEDIA WORLD PAGE.FOR THE MEAN TIME WE PUBLISHED NEWS,WE ADVERTISE FOR PEOPLE,ETC.LISTEN TO MANY RADIO STATIONS IN OUR PAGE BY CLICK.
READ MORE @ WWW.GHANAMEDIAWORLD.COM
CONTACT OF MEDIA AND ADVITISED IN OUR WEBPAGE ,IF YOU NEED PROFECTIONALS RADIO STATION LIVE STREAMING FOR BROADCASTING TOOLS PLUS WEBPAGE,DOMAIN,WE ARE NUMBER ONE PROFECTIONALS TO HELP YOU,FOR QUETIONS,DONATIONS,CONTACT OUR E-MAIL ADDRESS  ghanamediaworld@gmail.com
SHARE OUR PAGE AND LIKE US IN FACEBOOK,INSTAGRAM,WHATSAPP,PINTEREST,YOUTUBE,LINKEDIN.
WE ARE NUMBER ONE TRUELY MEDIA.
Comment Below
comments