UK SUSPENDS AID FOR MYANMAR MILITARY
UK SUSPENDS AID FOR MYANMAR MILITARY.
Violence in the Rakhine state has seen more than 400,000 Rohingya Muslims flee to neighbouring Bangladesh.
The Ministry of Defence said it had suspended £300,000 of funding until the current situation was resolved.
The UN's human rights chief has said the violence "seems [like] a textbook example of ethnic cleansing".
The £300,000-a-year was used to fund educational courses for the country's military.
But an MoD spokesperson said: "In the light of the ongoing violence… and our deep concern about the human rights abuses that are taking place, we have decided to suspend the educational courses provided to the Burmese military until there is an acceptable resolution to the current situation.
There have been reports that the state military have been burning down Rohingya villages.
Earlier Myanmar's de facto leader, Nobel Peace Prize winner Aung San Suu Kyi, said there had been "no conflicts" in the region since 5 September and there had been no "clearance operations" for two weeks.
But the BBC's Jonathan Head, who is reporting from neighbouring Bangladesh, said he had seen a village being burned on 7 September, and columns of smoke suggesting others had suffered a similar fate.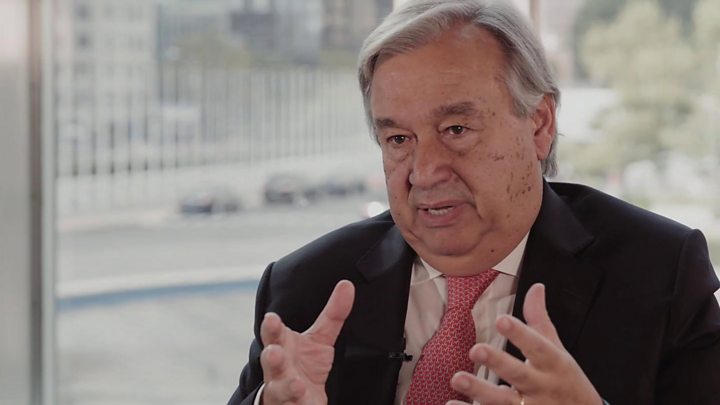 Ms Suu Kyi has come under heavy criticism from the UN's chief Antonio Guterres, who said the she has "a last chance" to halt the army offensive.
Speaking to the BBC's HARDtalk programme, the UN secretary general said it was clear that Myanmar's military "still have the upper hand" in the country.
And the UN's human rights chief Zeid Raad Al Hussein said on 19 September that the security operation "seems a textbook example of ethnic cleansing", and called for an end to the "cruel military operation".

How did the violence start?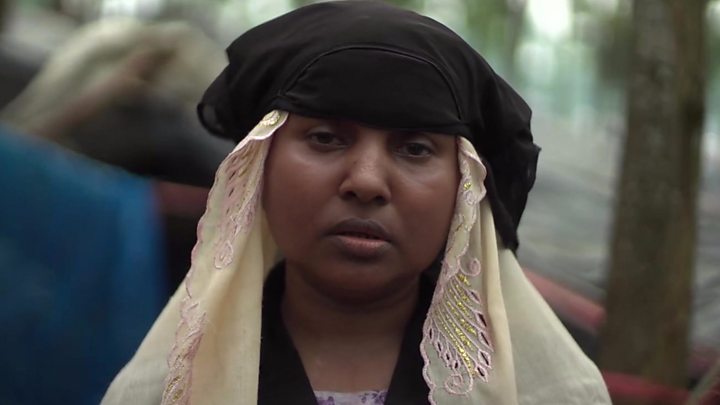 Violence in the region began on 25 August when Rohingya militants allegedly killed 12 people in attacks on police posts.
The attack was blamed on the Arakan Rohingya Salvation Army (Arsa).
Since then hundreds of thousands of Rohingya Muslims – a stateless minority in the Buddhist-majority state Rakhine – have fled Myanmar for Bangladesh near the city of Cox's Bazar.
Rohingya's claim that they are being forced out of their villages by the state's military, whereas the state claims that the refugees and Muslim militants are burning their own homes.

On Monday Foreign Secretary Boris Johnson said: "I have spoken to [Ms Suu Kyi] several times since this whole disaster began, and it is barbaric what is happening to the Rohingya, there can be no doubt about it.
"I think, what everybody wants, we want the killing to stop, number one, and that's a message I've given her."
Access to the Rakhine region is restricted by the state, meaning that journalists are only allowed into the area on government-controlled trips.
In a speech to Myanmar's parliament on Tuesday, Ms Suu Kyi said Rakhine would allow refugees back in to the region, after a "process of verification".
Rohingya Muslims are referred to as Bengali Muslim's by the government, and are denied citizenship and equal opportunities by the government.
FROM: BBC-UK.
FOR ADVERTISED IN OUR WEBPAGE  CONTACT  ghanamediaworld@gmail.com  OR visit www.ghanamediaworld.com
FOR ADVERTISED IN OUR WEBPAGE  CONTACT  ghanamediaworld@gmail.com  OR visit www.ghanamediaworld.com
DISCLAIMER: "The views expressed in this article are the sole responsibility of the author and do not neccessarily reflect those of  Ghana Media World. The contents of this article are of sole responsibility of the author(s).  Ghana Media World will not be responsible or liable for any inaccurate or incorrect statements contained in this article." © GHANAMEDIAWORLD.COM
HAVE A SAY. WHAT DO YOU THINK? DROP COMMENTS!
SOURCE:  WWW.GHANAMEDIAWORLD.COM
@ghanamediaworld on Twitter / lnstagram  ghanamediaworld
Do you have a story for The Ghanameiaworld Online news team? Email us at ghanamediaworld@gmail.com Or call us:
THE NEWS ITEMS ARE REAL  AND WE ARE NOT FAKE MEDIA,WE ARE HERE  FOR YOU  BECAUSE OF  TRUELY MEDIA. IF NOT BECAUSE OF YOU, WE CANNOT BE GHANA MEDIA WORLD. OR WHAT WE HAVE REACH TO BE NOW.WE PUBLISH WHAT IS TRUELY INSIDE THE MEDIA OF THE WORLD, FROM JOURNALIST NEWS,MEDIA NEWS, STARS NEWS, PERSONAL PRIVATE ADVERTISED AND CELEBRATIES NEWS,AND FROM THE PEOPLE WE GET TO KNOW,THE REAL NEWS FROM AND TO GHANA MEDIA WORLD, WITHOUT HIDDEN THINGS FROM YOU AND FROM THE TRUTH THAT WE GET FROM MEDIA AND JOURNALIST.AND ALSO SOMEWHERE WE GET TO KNOWN.OUR MEDIA PAGE IS STILL NOT COMPLETED,THERE IS A LOTS TO BE DONE IN GHANA MEDIA WORLD PAGE ONLINE.FOR THE MEAN TIME WE PUBLISHED NEWS,WE ADVERTISE FOR PEOPLE,ETC.LISTEN TO MANY RADIO STATIONS IN OUR PAGE BY CLICK.
READ MORE @ WWW.GHANAMEDIAWORLD.COM
CONTACT OF MEDIA AND ADVITISED IN OUR WEBPAGE ,IF YOU NEED PROFECTIONALS RADIO STATION LIVE STREAMING FOR BROADCASTING TOOLS PLUS WEBPAGE,DOMAIN,WE ARE NUMBER ONE PROFECTIONALS TO HELP YOU,FOR QUETIONS,DONATIONS,CONTACT OUR E-MAIL ADDRESS  ghanamediaworld@gmail.com
SHARE OUR PAGE AND LIKE US IN FACEBOOK,INSTAGRAM,WHATSAPP,PINTEREST,YOUTUBE,LINKEDIN.
WE ARE NUMBER ONE TRUELY MEDIA.
Comment Below
comments