SULLEY MUNTARI YELLOW CARDED AFTER REPORTING 'RACIAL ABUSE'
SULLEY MUNTARI YELLOW CARDED AFTER REPORTING 'RACIAL ABUSE'.
Pescara's Sulley Muntari walked off the pitch in protest when a referee booked him after he claimed he was being racially abused during a league match.
The 32-year-old former Ghana midfielder asked Daniele Minelli to stop Sunday's Serie A game at Cagliari.
But he was instead booked for dissent in the 89th minute, prompting the former Portsmouth and Sunderland player to leave the pitch in protest.
He angrily confronted Cagliari fans, shouting: "This is my colour."
Pescara boss Zdenek Zeman, whose side lost 1-0, said: "He asked the referee to intervene, but he [said he had] neither heard nor seen anything.
"Muntari was right, but he shouldn't have left the pitch. It's not up to us to dole out justice. We can talk a lot about it but then it must be left with the powers that be.
"Today this has happened when Muntari has already played in Italy for many years. We hope that mentalities will change."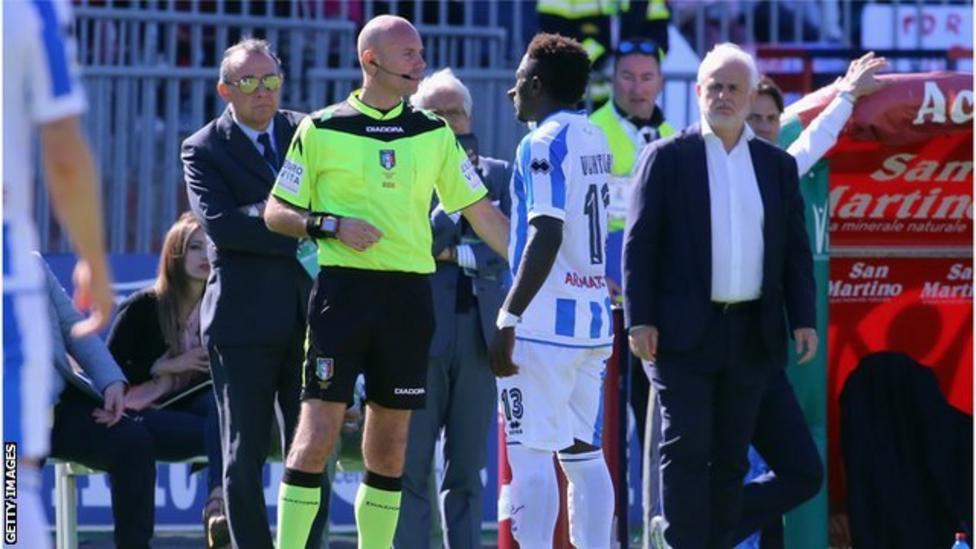 Muntari was at AC Milan when then team-mate Kevin-Prince Boateng walked off the pitch because of racist chanting during a friendly with lower-league side Pro Patria in January 2013.
It prompted a wave of support on social media. Fifa, football's world governing body, applauded Boateng's principles, but said it did not condone his decision to walk off.
Pescara are bottom of Serie A and have been relegated to Italy's second tier.
FROM: BBC.
DISCLAIMER: "The views expressed in this article are the sole responsibility of the author and do not neccessarily reflect those of  Ghana Media World. The contents of this article are of sole responsibility of the author(s).  Ghana Media World will not be responsible or liable for any inaccurate or incorrect statements contained in this article." © GHANAMEDIAWORLD.COM
HAVE A SAY. WHAT DO YOU THINK? DROP COMMENTS!
SOURCE:  WWW.GHANAMEDIAWORLD.COM
@ghanamediaworld on Twitter / lnstagram  ghanamediaworld
Do you have a story for The Ghanameiaworld Online news team? Email us at ghanamediaworld@gmail.com Or call us:
THE NEWS ITEMS ARE REAL  AND WE ARE NOT FAKE MEDIA,WE ARE HERE  FOR YOU  BECAUSE OF  TRUELY MEDIA. IF NOT BECAUSE OF YOU, WE CANNOT BE GHANA MEDIA WORLD. OR WHAT WE HAVE REACH TO BE NOW.WE PUBLISH WHAT IS TRUELY INSIDE THE MEDIA OF THE WORLD FROM JOURNALIST NEWS,MEDIA NEWS AND FROM THE PEOPLE WE GET THE REAL NEWS FROM AND TO GHANA MEDIA WORLD, WITHOUT HIDDEN THINGS FROM YOU AND FROM THE TRUTH THAT WE GET FROM MEDIA AND JOURNALIST.AND ALSO SOMEWHERE WE GET TO KNOWN.OUR MEDIA PAGE IS STILL NOT COMPLETED,THERE IS A LOTS TO BE DONE IN GHANA MEDIA WORLD PAGE.FOR THE MEAN TIME WE PUBLISHED NEWS,WE ADVERTISE FOR PEOPLE,ETC.LISTEN TO MANY RADIO STATIONS IN OUR PAGE BY CLICK.
READ MORE @ WWW.GHANAMEDIAWORLD.COM
CONTACT OF MEDIA AND ADVITISED IN OUR WEBPAGE ,IF YOU NEED PROFECTIONALS RADIO STATION LIVE STREAMING FOR BROADCASTING TOOLS PLUS WEBPAGE,DOMAIN,WE ARE NUMBER ONE PROFECTIONALS TO HELP YOU,FOR QUETIONS,DONATIONS,CONTACT OUR E-MAIL ADDRESS  ghanamediaworld@gmail.com
SHARE OUR PAGE AND LIKE US IN FACEBOOK,INSTAGRAM,WHATSAPP,PINTEREST,YOUTUBE,LINKEDIN.
WE ARE NUMBER ONE TRUELY MEDIA.
Comment Below
comments