SOMEONE MADE A MAP OF THE WORLD ACCORDING TO DONALD TRUMP
SOMEONE MADE A MAP OF THE WORLD ACCORDING TO DONALD TRUMP.
Donald Trump's worldview has often been the subject of intense debate – AND NOW HE'S ACTUALLY GOING TO BE THE MOST POWERFUL MAN IN THE WORLD.
Maps are always good for visualisation, and Bulgarian artist Yanko Tsvetkov has made a map of what the world (supposedly) looks like to the Commander-in-Chief-in-waiting.
His 'global stereotype' maps became so popular he ended up publishing the satirical images in two books, and most recently an iBooks edition, Atlas of Prejudice: The Complete Stereotype Map Collection.
Well, Tsvetkov struck again, this time with a World Map According to Donald Trump:
And it's a truly beautiful work of art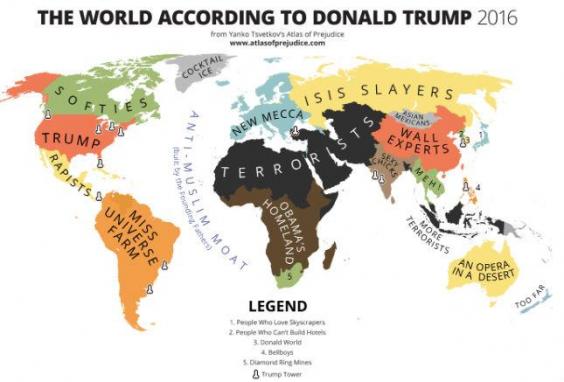 Tsvetkov incorporated all of Trump's sentiments. Like when he said he'd ban all Muslims from entering the US because they're a security threat…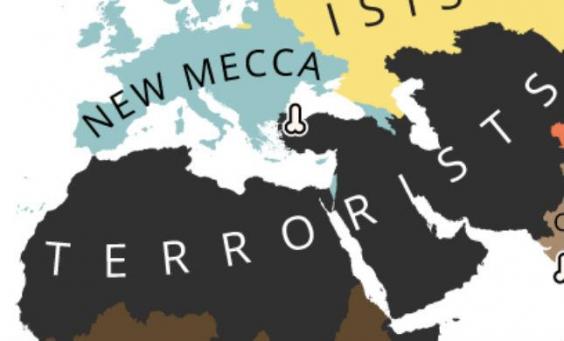 And that time he implied Mexicans are rapists:
When Mexico sends its people, they're not sending their best. They're not sending you. They're not sending you. They're sending people that have lots of problems, and they're bringing those problems with us. They're bringing drugs. They're bringing crime. They're rapists. And some, I assume, are good people.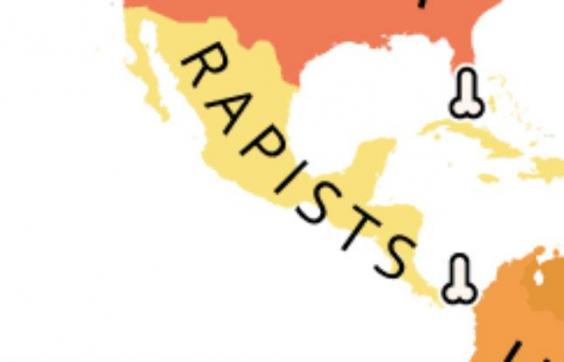 In a blog post about the map, Tsvetkov wrote:
It's time to face things as they really are: Trump, for all his potential as a shrewd businessman, actually possesses the mentality of a rural alcoholic whose only experience with political debate starts and ends at a local pub.

If you're a bit more sentimental and forgiving, you can picture him as that racist uncle you still care about because deep in his heart he's a 'good person.' Being an idiot excuses you from idiotic actions. Being a clever person acting like an idiot, doesn't.
Map courtesy of Yanko Tsvetkov. You can find more of his work here.
---
Posted by Narjas Zatat, Evan Bartlett in discover.
THE NEWS ITEMS ARE REAL  AND WE ARE NOT FAKE MEDIA,WE ARE HERE  FOR YOU  BECAUSE OF  TRUELY MEDIA. IF NOT BECAUSE OF YOU, WE CANNOT BE GHANA MEDIA WORLD. OR WHAT WE HAVE REACH TO BE NOW.WE PUBLISH WHAT IS TRUELY INSIDE THE MEDIA OF THE WORLD FOR PEOPLE TO GET THE REAL NEWS OF GHANA MEDIA WORLD, WITHOUT HIDDEN THINGS FROM YOU AND FROM THE TRUTH THAT WE GET FROM MEDIA AND JOURNALIST.AND ALSO SOMEWHERE WE GET TO KNOWN.OUR MEDIA PAGE IS STILL NOT COMPLETED,THERE IS A LOTS TO BE DONE IN GHANA MEDIA WORLD PAGE.FOR THE MEAN TIME WE PUBLISHED NEWS,WE ADVERTISE FOR PEOPLE,ETC.LISTEN TO MANY RADIO STATIONS IN OUR PAGE BY CLICK.
READ MORE @ WWW.GHANAMEDIAWORLD.COM
CONTACT OF MEDIA AND ADVITISED IN OUR WEBPAGE ,IF YOU NEED PROFECTIONALS RADIO STATION LIVE STREAMING FOR BROADCASTING TOOLS PLUS WEBPAGE,DOMAIN,WE ARE NUMBER ONE PROFECTIONALS TO HELP YOU,FOR QUETIONS,DONATIONS,CONTACT OUR E-MAIL ADDRESS  ghanamediaworld@gmail.com
SHARE OUR PAGE AND LIKE US IN FACEBOOK,INSTAGRAM,WHATSUPP.
WE ARE NUMBER ONE TRUELY MEDIA.
Comment Below
comments