RATTRAY PARK'S PSYCHEDELIC FOUNTAIN SOFTWARE STOLEN; FACILITY STARTS SLOW DEATH
RATTRAY PARK'S PSYCHEDELIC FOUNTAIN SOFTWARE STOLEN; FACILITY STARTS SLOW DEATH.
Popular leisure park at Kumasi, Rattray Park, is slowly dying, as security agencies investigate theft of a USB drive containing operating software for the recreation facility's dancing fountain.
The fountain which is the park's major attraction has ceased working for over a month, and parts of its component have begun to rust away.
Two people have been arrested in connection with the disappearance of the device.
Manager of the park, Kwame Asamoah Mensah and IT Manager, Carlos Sakyi Ntow, were picked up a month over the alleged theft of the USB drive.
Rattray Park has been the subject of political turf war since its inception, as incumbent Presiding Member of the Kumasi Metropolitan Assembly (KMA), Abraham Boadi, has been pushing for removal of its current managers.
He believes as appointees of the erstwhile NDC government, they would sabotage the new administration.
There is speculation the theft of the dancing fountain's software was hatched out by unseen faces and hands as a ploy to get rid of the two.
Although Rattray Park, which was inaugurated about two years ago has raked in at least GH¢2.5 million in revenue for KMA, the political wrangling and a lack of proper maintenance culture has contributed to its deterioration.
Luv FM's Erastus Asare Donkor reports that the current status of the famed leisure park in the Ashanti Region capital could be politically motivated.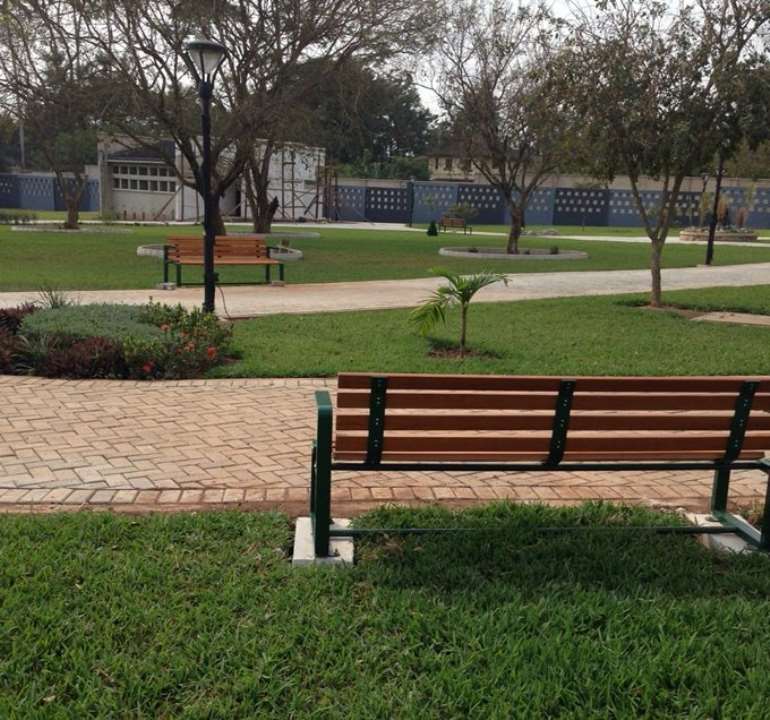 How USB was stolen
Current Managers of the facility say the fountain's USB drive was stolen on July 22, 2017, possibly through the window leading to the room in which it was kept as the door was not tampered with – two windows leading into the room had been left opened.
Keys to the IT room are always left at a location accessible to security men on duty.
All the four security men on duty have so far been left off the hook, though sources say they had been questioned.
Police and the KMA will not comment officially, however, KMA Presiding Member, Abraham Boadi, recently said during a radio discussion that the current managers of the park stole the drive to sabotage the incumbent Kumasi Mayor, Osei Assibey Antwi.
FOR ADVERTISED IN OUR WEBPAGE  CONTACT  ghanamediaworld@gmail.com  OR visit www.ghanamediaworld.com
DISCLAIMER: "The views expressed in this article are the sole responsibility of the author and do not neccessarily reflect those of  Ghana Media World. The contents of this article are of sole responsibility of the author(s).  Ghana Media World will not be responsible or liable for any inaccurate or incorrect statements contained in this article." © GHANAMEDIAWORLD.COM
HAVE A SAY. WHAT DO YOU THINK? DROP COMMENTS!
SOURCE:  WWW.GHANAMEDIAWORLD.COM
@ghanamediaworld on Twitter / lnstagram  ghanamediaworld
Do you have a story for The Ghanameiaworld Online news team? Email us at ghanamediaworld@gmail.com Or call us:
THE NEWS ITEMS ARE REAL  AND WE ARE NOT FAKE MEDIA,WE ARE HERE  FOR YOU  BECAUSE OF  TRUELY MEDIA. IF NOT BECAUSE OF YOU, WE CANNOT BE GHANA MEDIA WORLD. OR WHAT WE HAVE REACH TO BE NOW.WE PUBLISH WHAT IS TRUELY INSIDE THE MEDIA OF THE WORLD, FROM JOURNALIST NEWS,MEDIA NEWS, STARS NEWS, PERSONAL PRIVATE ADVERTISED AND CELEBRATIES NEWS,AND FROM THE PEOPLE WE GET TO KNOW,THE REAL NEWS FROM AND TO GHANA MEDIA WORLD, WITHOUT HIDDEN THINGS FROM YOU AND FROM THE TRUTH THAT WE GET FROM MEDIA AND JOURNALIST.AND ALSO SOMEWHERE WE GET TO KNOWN.OUR MEDIA PAGE IS STILL NOT COMPLETED,THERE IS A LOTS TO BE DONE IN GHANA MEDIA WORLD PAGE ONLINE.FOR THE MEAN TIME WE PUBLISHED NEWS,WE ADVERTISE FOR PEOPLE,ETC.LISTEN TO MANY RADIO STATIONS IN OUR PAGE BY CLICK.
READ MORE @ WWW.GHANAMEDIAWORLD.COM
CONTACT OF MEDIA AND ADVITISED IN OUR WEBPAGE ,IF YOU NEED PROFECTIONALS RADIO STATION LIVE STREAMING FOR BROADCASTING TOOLS PLUS WEBPAGE,DOMAIN,WE ARE NUMBER ONE PROFECTIONALS TO HELP YOU,FOR QUETIONS,DONATIONS,CONTACT OUR E-MAIL ADDRESS  ghanamediaworld@gmail.com
SHARE OUR PAGE AND LIKE US IN FACEBOOK,INSTAGRAM,WHATSAPP,PINTEREST,YOUTUBE,LINKEDIN.
WE ARE NUMBER ONE TRUELY MEDIA.
Comment Below
comments