PRESIDENT NANA AKUFO-ADDO ENSTOOLED CHIEF AT JAMESTOWN [PHOTOS]
PRESIDENT NANA AKUFO-ADDO ENSTOOLED CHIEF AT JAMESTOWN [PHOTOS].
The Chiefs of Ngleshie Alata Traditional Area have honoured the President, Nana Addo Dankwa Akufo-Addo by enstooling him as a Chief at a durbar held at Mantse Agbona, Jamestown in Accra.
President Akufo-Addo was given the stool name "Nii Kwaku Ablade Okogyeaman I," to wit "Royal Warrior; One who fights to redeem his people."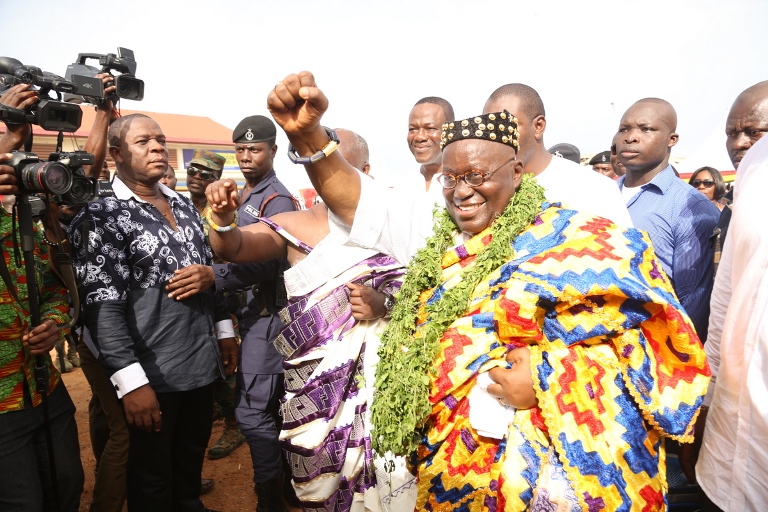 He was given the name by the paramount chief of the Ngleshie Alata Traditional Area, Oblempong Nii Kojo Ababio, on Sunday.
Explaining the rationale for the enstoolment,
Oblempong Nii Kojo Ababio, stated that Akufo-Addo was honoured because of his career as a human rights lawyer and an advocate of the Rule of Law which he said was indicative of a man who has the welfare of Ghana at heart. Oblempong Nii Kojo Ababio urged the president to implement programmes and policies that will benefit all Ghanaians irrespective of their political, religious or ethnic affiliations.
The paramount chief also appealed to Akufo-Addo to take urgent steps to modernize Jamestown, a move, he noted, would ramp up economic activity and bring in its wake, jobs and wealth for the people.
Speaking at the durbar, the President who was grateful for the honour pledged his commitment to making Accra the cleanest city on the African continent within the next four years. He said "the commitment I want to make, and for all of us to make, is that by the end of my term in office, Accra will be the cleanest city on the entire African continent. That is the commitment I am making." The durbar, organized by Chiefs and people of the area was in honour the president and his wife, Rebecca Akufo-Addo.
BY:  GODWIN AKWEITEI ALLOTEY.
DISCLAIMER: "The views expressed in this article are the sole responsibility of the author and do not neccessarily reflect those of  Ghana Media World. The contents of this article are of sole responsibility of the author(s).  Ghana Media World will not be responsible or liable for any inaccurate or incorrect statements contained in this article." © GHANAMEDIAWORLD.COM
HAVE A SAY. WHAT DO YOU THINK? DROP COMMENTS!
SOURCE:  WWW.GHANAMEDIAWORLD.COM
@ghanamediaworld on Twitter / lnstagram  ghanamediaworld
Do you have a story for The Ghanameiaworld Online news team? Email us at ghanamediaworld@gmail.com Or call us:
THE NEWS ITEMS ARE REAL  AND WE ARE NOT FAKE MEDIA,WE ARE HERE  FOR YOU  BECAUSE OF  TRUELY MEDIA. IF NOT BECAUSE OF YOU, WE CANNOT BE GHANA MEDIA WORLD. OR WHAT WE HAVE REACH TO BE NOW.WE PUBLISH WHAT IS TRUELY INSIDE THE MEDIA OF THE WORLD FROM JOURNALIST NEWS,MEDIA NEWS AND FROM THE PEOPLE WE GET THE REAL NEWS FROM AND TO GHANA MEDIA WORLD, WITHOUT HIDDEN THINGS FROM YOU AND FROM THE TRUTH THAT WE GET FROM MEDIA AND JOURNALIST.AND ALSO SOMEWHERE WE GET TO KNOWN.OUR MEDIA PAGE IS STILL NOT COMPLETED,THERE IS A LOTS TO BE DONE IN GHANA MEDIA WORLD PAGE.FOR THE MEAN TIME WE PUBLISHED NEWS,WE ADVERTISE FOR PEOPLE,ETC.LISTEN TO MANY RADIO STATIONS IN OUR PAGE BY CLICK.
READ MORE @ WWW.GHANAMEDIAWORLD.COM
CONTACT OF MEDIA AND ADVITISED IN OUR WEBPAGE ,IF YOU NEED PROFECTIONALS RADIO STATION LIVE STREAMING FOR BROADCASTING TOOLS PLUS WEBPAGE,DOMAIN,WE ARE NUMBER ONE PROFECTIONALS TO HELP YOU,FOR QUETIONS,DONATIONS,CONTACT OUR E-MAIL ADDRESS  ghanamediaworld@gmail.com
SHARE OUR PAGE AND LIKE US IN FACEBOOK,INSTAGRAM,WHATSAPP,PINTEREST,YOUTUBE,LINKEDIN.
WE ARE NUMBER ONE TRUELY MEDIA.
Comment Below
comments