PHOTOS: ASAMOAH GYAN GETS HONORARY DOCTORATE AWARD
PHOTOS: ASAMOAH GYAN GETS HONORARY DOCTORATE AWARD.
An honorary doctorate has been conferred on captain of the Ghana Black Stars, Asamoah Gyan, and other distinguished personalities by the Peristrofi World Honorary International Awards. Gyan received the doctorate for his excellence leadership in Africa.
The award scheme is conferred on self-made personalities with distinction in their areas of endeavour.
Honorees for this year's awards are distinctive leaders with proven track record, dignity and self-discipline.
They are without questionable character in their area of success and achievements.
Mr Christian Agyemang Chief executive officer of Taabea Group of Companies, Christian Akwasi Agyemang was also conferred an honorary doctorate for excellent leadership in West Africa.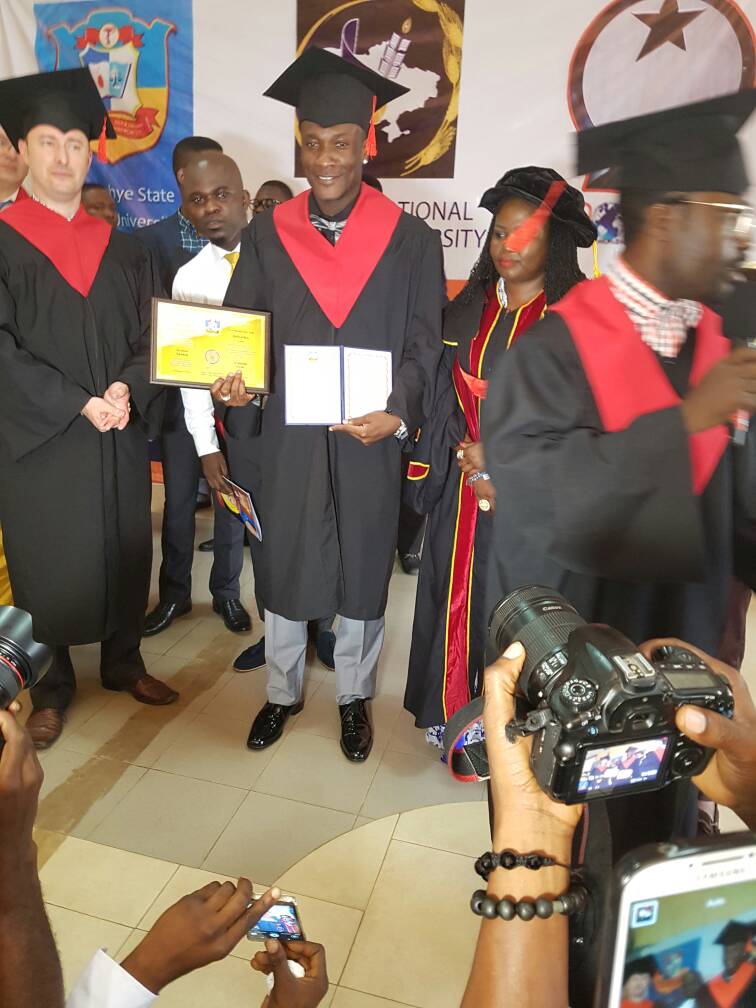 Other Awardees included Reverend Dr. Gifty Lamptey, Nana Kwaku Agyiri Aggrey, Harrison Tetteh, Nutifafa Kwasi Takyi, Manfred Takyi, Enoch Sorgin, Joye Nonhlanhla and Victor Kwadjo Ademang.
DISCLAIMER: "The views expressed in this article are the sole responsibility of the author and do not neccessarily reflect those of  Ghana Media World. The contents of this article are of sole responsibility of the author(s).  Ghana Media World will not be responsible or liable for any inaccurate or incorrect statements contained in this article." © GHANAMEDIAWORLD.COM
HAVE A SAY. WHAT DO YOU THINK? DROP COMMENTS!
SOURCE:  WWW.GHANAMEDIAWORLD.COM
@ghanamediaworld on Twitter / lnstagram  ghanamediaworld
Do you have a story for The Ghanameiaworld Online news team? Email us at ghanamediaworld@gmail.com Or call us:
THE NEWS ITEMS ARE REAL  AND WE ARE NOT FAKE MEDIA,WE ARE HERE  FOR YOU  BECAUSE OF  TRUELY MEDIA. IF NOT BECAUSE OF YOU, WE CANNOT BE GHANA MEDIA WORLD. OR WHAT WE HAVE REACH TO BE NOW.WE PUBLISH WHAT IS TRUELY INSIDE THE MEDIA OF THE WORLD FROM JOURNALIST NEWS,MEDIA NEWS AND FROM THE PEOPLE WE GET THE REAL NEWS FROM AND TO GHANA MEDIA WORLD, WITHOUT HIDDEN THINGS FROM YOU AND FROM THE TRUTH THAT WE GET FROM MEDIA AND JOURNALIST.AND ALSO SOMEWHERE WE GET TO KNOWN.OUR MEDIA PAGE IS STILL NOT COMPLETED,THERE IS A LOTS TO BE DONE IN GHANA MEDIA WORLD PAGE.FOR THE MEAN TIME WE PUBLISHED NEWS,WE ADVERTISE FOR PEOPLE,ETC.LISTEN TO MANY RADIO STATIONS IN OUR PAGE BY CLICK.
READ MORE @ WWW.GHANAMEDIAWORLD.COM
CONTACT OF MEDIA AND ADVITISED IN OUR WEBPAGE ,IF YOU NEED PROFECTIONALS RADIO STATION LIVE STREAMING FOR BROADCASTING TOOLS PLUS WEBPAGE,DOMAIN,WE ARE NUMBER ONE PROFECTIONALS TO HELP YOU,FOR QUETIONS,DONATIONS,CONTACT OUR E-MAIL ADDRESS  ghanamediaworld@gmail.com
SHARE OUR PAGE AND LIKE US IN FACEBOOK,INSTAGRAM,WHATSAPP,PINTEREST,YOUTUBE,LINKEDIN.
WE ARE NUMBER ONE TRUELY MEDIA.
Comment Below
comments