OTERKPOLU/RC PUPILS SCHOOL IN YILO KROBO MUNICIPALITY BATTLE WITH SNAKES, BATS IN DILAPIDATED CLASSROOMS (PHOTOS).
OTERKPOLU/RC PUPILS SCHOOL IN YILO KROBO MUNICIPALITY BATTLE WITH SNAKES, BATS IN DILAPIDATED CLASSROOMS (PHOTOS).
The lives of over 500 pupils and teachers of the Oterkpolu/RC Basic School in the Yilo Krobo Municipality are being threatened because bats, snakes and other reptiles, have invaded the school's dilapidated classrooms and offices.
Students and the teachers regularly battle with snakes and other reptiles that find their way into the dilapidated school structure during contact hours.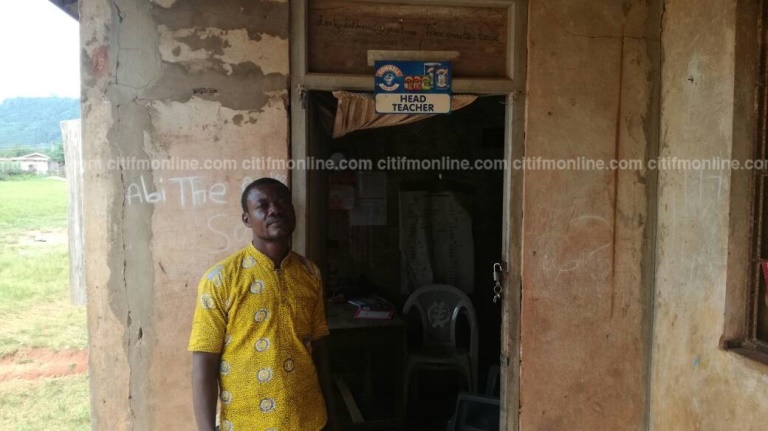 When Citi News visited the school, it was revealed that the situation cuts across the whole primary block from basic 1 to basic 6.
The entire structure has deep cracks all over the buildings, with holes and dusty floors. The roofs are all rusty with holes and leaks in them.
The school prefect, Okran Tei Denis, in an interview with Citi News explained how these problems are affecting them academically and psychologically.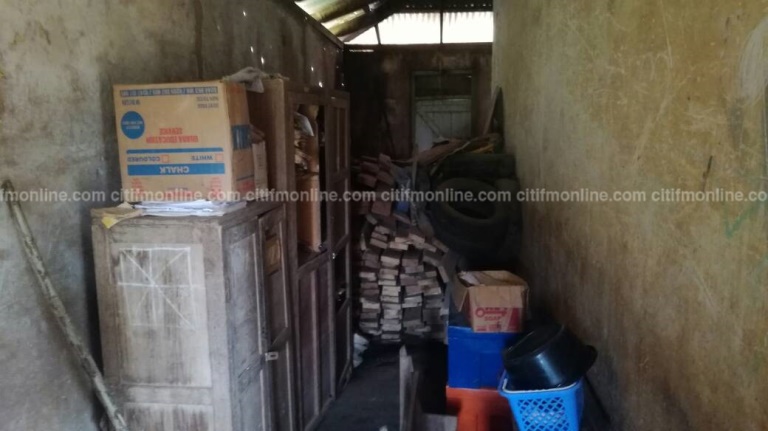 "Sometimes when we are learning the snakes crawl in, at other times they fall from the roof and we all run out, we are always scared and afraid when we come to school because of how the snakes have been entering our classrooms. Also, whenever it rains, our books, desks and uniforms get wet, and we close classes because there are holes in the roofing and the rains drop down in to the classrooms".
Akua Mawuena, a class 4 teacher, explained to Citi News her encounter with a snake during contact hours which forced an abrupt end of a class in section.
"I was in class teaching the other time and the students started shouting snake snake, so I quickly turned back and saw a cobra hanging just behind me. We rushed out for our lives and in the process my skirt got torn, so we ended the class after some people came to kill the snake. So I must say the concentration of students and myself is not always not on academics, we always look out for them because this is not the first time our classrooms have been invaded by snakes".
"We are really scared because how on earth can we be in class and snakes also come in to study, we don't live with snakes, but humans. These snakes always distract us, and it is really affecting teaching and learning".
The most shocking is the state of the headmaster's office, which he shares with bats and reptiles.
Djambah Micheal, the headmaster of the primary school  section, explained how killing of snakes in his office has become a daily routine.
"You can hear the noise from the bats in here, they are more than 500, and they share this office with me, just last two months, I killed two pythons in here who had come to feed on the bats. A week ago, I was in my chair when another snake came from the roof but fortunately it escaped back through the roof the moment I picked up the stick".
He said "It is not easy at all here, it's just by the grace of God because another time I was going through my lecture notes behind my desk after the first break, then I had a strong sensation to turn right and close to me about 30 centimetres where my cupboard is, was a big snake lying behind it and I must say it is just by the grace of God".
The headmaster revealed how the Municipal Assembly and Education Service have failed to attend to them after the situation was brought to their attention.
"Some time ago, the Municipal Director and his team came to survey the uncompleted structure close to the school, which had been abandoned 4 years ago, but nothing has been done about it".
"My teachers have vowed not to step foot in my office, but  I am always forced to come in because I have a problem with my eyes when ever the sun is scorching it becomes very difficult for me".
Adjei Sah Ebenezer, the headmaster of the JHS section, says the lives of the over 500 students and teachers are at risk if their concerns are not taken seriously.
"The actual problem we have is about the structure, this structure has been like this for more than 7 years, we have taken pictures of it written to the municipal education office and the assembly which promised to do something about it, but it is over 7 years now and nothing has been done about it. As you can see the deep cracks in the wall, the portions which have been washed away by rains leaving the structure hanging and the holes in the roofing, it has made life very difficult for academic work to go on".
"This has become so dangerous for teachers and students, and it has taken a deep toll on teaching and learning. The teachers are doing very well, but we are afraid that in case of any storm, the structure will come down and collapse. In the afternoons, the room becomes very hot with the sun shining through the holes in the roofs, so we always bring the kids out to come and study under the trees. When it starts raining, we end classes and close for the day because of the nature of the roofing and the structure, because we don't want to witness the collapse of the building with the kids in it".
Ebenezer Adjei thus called on government and other philantropic organizations for immediate assistance.
"A new project was started, and it was abandoned 4 years ago, we are therefore calling on government and other private individuals and organizations to come to our aid and continue the construction of the abandoned structure or even renovate the dilapidated buildings for us".
Until government, private and other stakeholders intervene to help solve these challenges , students and teachers of Oterkpolu RC will continue to be at the mercy of reptiles, and become possible victims of a disaster should the structure collapse whenever there's a heavy storm.
BY: NEIL NII AMATEY KANARKU/CITIFMONLINE.
FOR ADVERTISED IN OUR WEBPAGE  CONTACT  ghanamediaworld@gmail.com  OR visit www.ghanamediaworld.com
WE PUBLISHED 99% GHANA NEWS AND THE REST 1% IS FOR OUTSIDE WORLD NEWS, GHANA FIRST,PUBLISHED  YOUR OWN FIRST TO WIN BETTER FUTURE.
DISCLAIMER: "The views expressed in this article are the sole responsibility of the author and do not neccessarily reflect those of  Ghana Media World. The contents of this article are of sole responsibility of the author(s).  Ghana Media World will not be responsible or liable for any inaccurate or incorrect statements contained in this article." © GHANAMEDIAWORLD.COM
HAVE A SAY. WHAT DO YOU THINK? DROP COMMENTS!
SOURCE:  WWW.GHANAMEDIAWORLD.COM
@ghanamediaworld on Twitter / lnstagram  ghanamediaworld
Do you have a story for The Ghanameiaworld Online news team? Email us at ghanamediaworld@gmail.com Or call us:
THE NEWS ITEMS ARE REAL  AND WE ARE NOT FAKE MEDIA,WE ARE HERE  FOR YOU  BECAUSE OF  TRUELY MEDIA. IF NOT BECAUSE OF YOU, WE CANNOT BE GHANA MEDIA WORLD. OR WHAT WE HAVE REACH TO BE NOW.WE PUBLISH WHAT IS TRUELY INSIDE THE MEDIA OF THE WORLD, FROM JOURNALIST NEWS,MEDIA NEWS, STARS NEWS, PERSONAL PRIVATE ADVERTISED AND CELEBRATIES NEWS,AND FROM THE PEOPLE WE GET TO KNOW,THE REAL NEWS FROM AND TO GHANA MEDIA WORLD, WITHOUT HIDDEN THINGS FROM YOU AND FROM THE TRUTH THAT WE GET FROM MEDIA AND JOURNALIST.AND ALSO SOMEWHERE WE GET TO KNOWN.OUR MEDIA PAGE IS STILL NOT COMPLETED,THERE IS A LOTS TO BE DONE IN GHANA MEDIA WORLD PAGE ONLINE. PUBLISHED NEWS,WE ADVERTISE FOR PEOPLE,ETC.LISTEN TO MANY RADIO STATIONS IN OUR PAGE BY CLICK.
READ MORE @ WWW.GHANAMEDIAWORLD.COM
CONTACT OF MEDIA AND ADVITISED IN OUR WEBPAGE ,IF YOU NEED PROFECTIONALS RADIO STATION LIVE STREAMING FOR BROADCASTING TOOLS PLUS WEBPAGE,DOMAIN,WE ARE NUMBER ONE PROFECTIONALS TO HELP YOU,NEWS,RADIOS,MEDIA,MAGAZINES,ADVERTISMENTS.LIVE STREAMING PROVIDER.
WE ARE HUGE BIG COMPANY.
ONLINE RADIO SETUP FOR YOUR FM STATION ONLINE.
FOR YOUR ONLINE RADIO – Also for Your Media , FM Station, Church or As well as online Internet Radio Station.
We do it profectional.Its is your dream to set up an online radio station that will turn you into a major media hub in this country and the world as well as to enable promote your goods and services Globally.Then contact us immediately at ghanamediaworld@gmail.com or call us 004915218034976 OR 004917648327355 –  0023354294897
We are running an express and affordable online radio set up for all.
Contact us and have a feel of what it feels to own an online radio and what we have for you.
Call or Whats App 004915218034976 NOW
THE ONLINE RADIO STATION DEVELOPED BY GHANAMEDIAWORLD.COM
CONTACT OUR E-MAIL ADDRESS  ghanamediaworld@gmail.com
SHARE OUR PAGE AND LIKE US IN FACEBOOK,INSTAGRAM,WHATSAPP,PINTEREST,YOUTUBE,LINKEDIN.
WE ARE NUMBER ONE TRUELY MEDIA.
Comment Below
comments