NDC DIDN'T LOSE ELECTION BECAUSE OF 'LAME HORSE' – RAWLINGS REPLIES MAHAMA ON JUNE 4
NDC DIDN'T LOSE ELECTION BECAUSE OF 'LAME HORSE' – RAWLINGS REPLIES MAHAMA ON JUNE 4.
Former President Jerry Rawlings has marked the 38th anniversary of June 4 uprising with a fiery monologue castigating the erstwhile Mahama administration which he labelled as a government of  'sickening' greed.
Struggling to restrain himself, the former president dismissed the view offered by his party's 2016 presidential candidate John Mahama for the party's defeat in the election.
"If you ride a lame horse into a race and you lose the race, your priority must be to cure the lameness of the horse" he said last April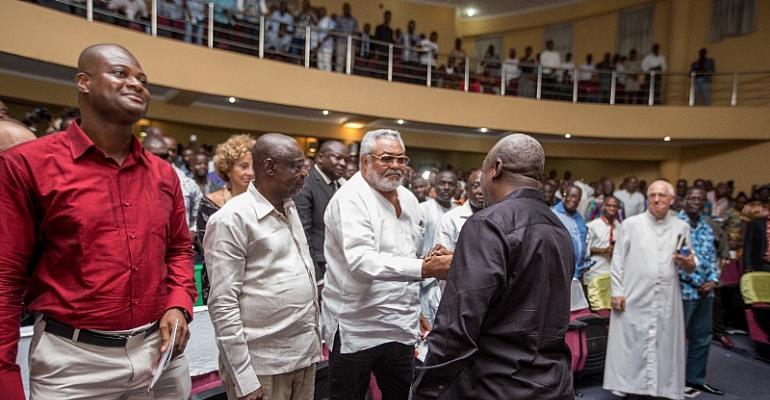 Photo: Two former President, Rawlings exchanges pleasantries with John Mahama
But angry, passionate and roaring, the former President charged that the " disgraceful failure" of 2016 was because the leadership of the party abandoned the values of June 4.
The founder turned critic reiterated his well-known position that the strength of the NDC is found in the values of probity and accountability which inspired him to topple a military regime on June 4, 1979.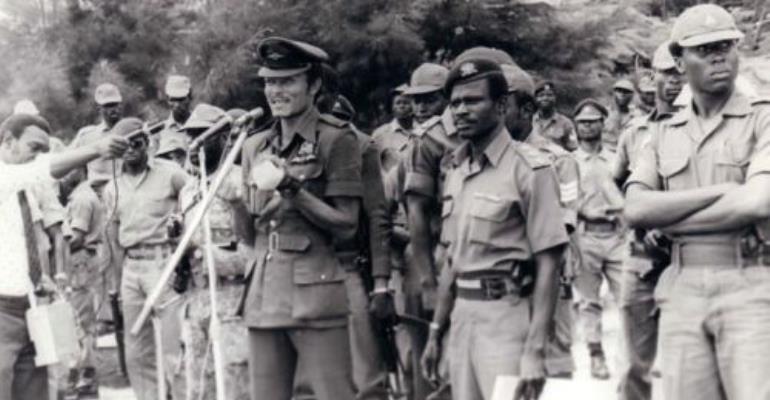 According to him, the corruption of the Generals executed pales considerably when compared to the corruption that engulfed the NDC government with endorsement of its leaders.
"Believe it or not the greed of today is a thousand times more than what these Generals were executed for," he boomed.
Rawlings during his speech, promised to refrain from his characteristic explosive speeches. "I have decided to postpone the boom inside my stomach".
But few minutes into the speech, the former President appeared to have reverted to his default settings for public political speeches.
He said under the past NDC government, some officials amassed wealth and "used money as a political weapon to become kingmakers."
"If I was doing it this way, if my colleagues were doing it this way, would any of them be where they are today?" he said in a speech that required an occasional pause to catch his breath.
He used the occasion to also demand a change in the leadership of the party. He told a motley crowd in Wa in the Upper West region, 'without new leaders, the NDC can never come back to power.'
"If we are unable to restore a fair measure of integrity into our dealings, then the blood of many would have been shed in vain"
"If we cannot get our claws off to allow for fresh leadership to emerge, then we shall sink even further" he called for new leaders with 'solid' integrity take hold of the party before the 2020 elections.
Rawlings repeated his complaint that the party 'squandered opportunities' to rid itself of corrupt elements during the tenure of President Mills and later President Mahama.
Tired that his calls fell on deaf eyes, Rawlings revealed he contemplated leaving the party he founded and which has dominated the 4th Republic with 16 years in power.
But he was dissuaded from 'jumping off the train' because "such a departure would allow the enemies of greed, avarice and dishonesty to further deepen their claws on you and the party".
"…the only thing that has prevented stopped me from doing so is the plight of the many good people"
His wife Nana Konadu Agyeman Rawlings, however, left to form the National Democratic Party in 2012 but has never been able to stand for presidential elections in all two contests since then.
Repeating a tale of his heartbreak, Rawlings expressed pain at the treatment meted out to him by some NDC executives.
He said there is a grand design within the party to "shed off any influence that I may still command even in the party that was founded by us".
Enduring his season of abandonment, Rawlings said the 'old guards' in the party were prevented from entering the seat of government by 'new' faces in the party as respect for former leaders in the party ebbed.
He however expressed gratitude to those who have been loyal to him. Although he mentioned no names, the president said "I am profoundly grateful."
This year's anniversary was attended by several Ministers in the Mahama government including the Minority leader Haruna Iddrisu, former Defence Minister  Benjamin Kunbour, former Trade Minister Dr Ekow Spio-Garbrah, former Deputy Transport Minister Mike Hammah, former Deputy Minister Ricketts-Hagan, former Health Minister Joseph Yileh Chireh.
With this year's anniversary being the first since the NDC lost power, some of the former government officials travelled 562 km from Accra to honour the former president's yearly ritual.
At a time when the relationship between Rawlings and the NDC is estranged, his first daughter Zanetor, may represent a fresh ember of hopes for a reconciliation after she won a seat in parliament on the ticket of the party.
The former president's wife, Nana Konadu, a strong critic of President Mahama  may be softening her posture towards a return to the NDC.
Usually dismissive of it, the former First Lady at the last asking on Joy FM weeks ago, 'time will tell' if she would ever return to the party.
EDWIN APPIAH/MYJOYONLINE.
DISCLAIMER: "The views expressed in this article are the sole responsibility of the author and do not neccessarily reflect those of  Ghana Media World. The contents of this article are of sole responsibility of the author(s).  Ghana Media World will not be responsible or liable for any inaccurate or incorrect statements contained in this article." © GHANAMEDIAWORLD.COM
HAVE A SAY. WHAT DO YOU THINK? DROP COMMENTS!
SOURCE:  WWW.GHANAMEDIAWORLD.COM
@ghanamediaworld on Twitter / lnstagram  ghanamediaworld
Do you have a story for The Ghanameiaworld Online news team? Email us at ghanamediaworld@gmail.com Or call us:
THE NEWS ITEMS ARE REAL  AND WE ARE NOT FAKE MEDIA,WE ARE HERE  FOR YOU  BECAUSE OF  TRUELY MEDIA. IF NOT BECAUSE OF YOU, WE CANNOT BE GHANA MEDIA WORLD. OR WHAT WE HAVE REACH TO BE NOW.WE PUBLISH WHAT IS TRUELY INSIDE THE MEDIA OF THE WORLD FROM JOURNALIST NEWS,MEDIA NEWS AND FROM THE PEOPLE WE GET THE REAL NEWS FROM AND TO GHANA MEDIA WORLD, WITHOUT HIDDEN THINGS FROM YOU AND FROM THE TRUTH THAT WE GET FROM MEDIA AND JOURNALIST.AND ALSO SOMEWHERE WE GET TO KNOWN.OUR MEDIA PAGE IS STILL NOT COMPLETED,THERE IS A LOTS TO BE DONE IN GHANA MEDIA WORLD PAGE.FOR THE MEAN TIME WE PUBLISHED NEWS,WE ADVERTISE FOR PEOPLE,ETC.LISTEN TO MANY RADIO STATIONS IN OUR PAGE BY CLICK.
READ MORE @ WWW.GHANAMEDIAWORLD.COM
CONTACT OF MEDIA AND ADVITISED IN OUR WEBPAGE ,IF YOU NEED PROFECTIONALS RADIO STATION LIVE STREAMING FOR BROADCASTING TOOLS PLUS WEBPAGE,DOMAIN,WE ARE NUMBER ONE PROFECTIONALS TO HELP YOU,FOR QUETIONS,DONATIONS,CONTACT OUR E-MAIL ADDRESS  ghanamediaworld@gmail.com
SHARE OUR PAGE AND LIKE US IN FACEBOOK,INSTAGRAM,WHATSAPP,PINTEREST,YOUTUBE,LINKEDIN.
WE ARE NUMBER ONE TRUELY MEDIA.
Comment Below
comments