MELANIA TRUMP: US FIRST LADY ARRIVES IN GHANA FOR SOLO AFRICA TRIP.
US First Lady Melania Trump has visited a hospital in Ghana's capital, Accra, at the start of her solo trip that will see her visit four African countries.
Earlier at the airport, she was welcomed by dancers and drummers but the public reaction has been low key.
The tour, which also takes in Kenya, Malawi and Egypt, will focus on promoting health and education.
In February, a row broke out after President Donald Trump allegedly used "shithole" to describe African nations.
Mrs Trump's week-long trip to the continent is seen as helping to heal some of the divisions.
What is Mrs Trump doing?
The visit, alongside Ghana's First Lady Rebecca Akufo-Addo, to Accra's Ridge Hospital set the tone for the trip as a whole.
READ MORE:  'MY SHITHOLE IN AFRICA': GLOBALl REACTIONS TO TRUMP'S COMMENT.
'WE ARE NOT A SHITHOLE COUNTRY' — AKUFO-ADDO CONDEMNS TRUMP OUTBURST.
'DONALD TRUMP, A FRONT-LINE US PRESIDENTIAL CONTENDER BLAST NIGERIA FOR CLAIMING BEING GIANT OF AFRICA.
Mrs Trump observed babies being weighed as part of a project aimed at promoting nutrition in children, which is supported by funding from the US government's foreign aid organisation, USAid
She is also set to promote her Be Best initiative which aims to tackle issues such as cyberbullying and boost healthy living. She tweeted that the campaign was going "international".
Ahead of her trip Mrs Trump said that she was looking forward to visiting "four beautiful and very different countries in Africa".
"She is interested in Africa because she has never been before and knows that each country will have its own unique history and culture." Stephanie Grisham, her communications director, said.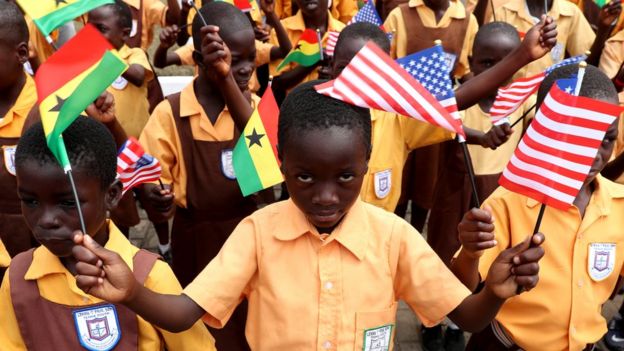 Ahead of her trip, Mrs Trump said that she was looking forward to seeing how the US can continue working together with Malawi to support a USAid programme that is focussed on children's education.
The first lady also highlighted the work the US was doing in Kenya to support early-childhood education, wildlife conservation, and HIV prevention.
"My final stop, which is Egypt, will focus on the country's tourism and conservation projects," she said.
How has she been received?
Mrs Trump got a warm reception at the airport but there has been little reaction by the public so far.
The BBC's Thomas Naadi, who is in the capital, says it is just like a normal day.
Views about the visit have been mixed. "I think Melania is a great woman. Her story is particularly inspiring," one resident of Accra told the BBC.
But another said "she doesn't inspire me" comparing her unfavourably to former First Lady Michelle Obama, who travelled to Ghana with her husband on a trip in 2009.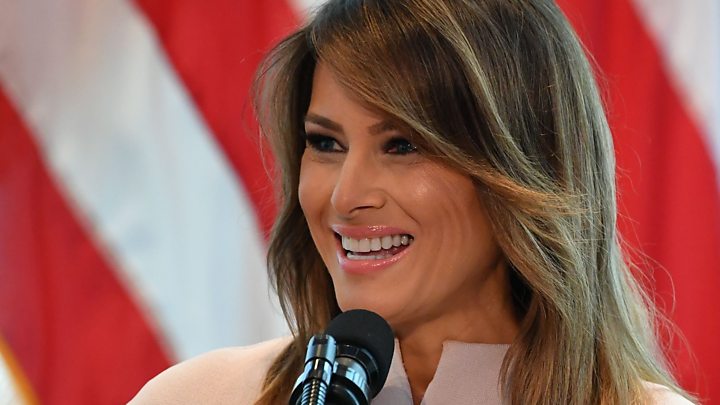 What does President Trump think of Africa?
Ahead of his wife's trip to Africa President Trump told reporters: "We both love Africa. Africa is so beautiful. The most beautiful part of the world, in many ways."
This view is at odds with comments he allegedly made in a private discussion in February.
Mr Trump was accused of racism, after he was reported to have used the word "shithole" to refer to African nations when talking about immigration policy.
The African Union asked him to apologise over the comment.
He later told reporters: "I am not a racist. I'm the least racist person you have ever interviewed."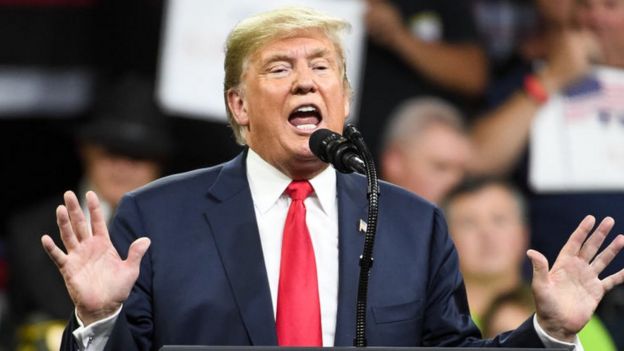 In August the president angered the South African government by falsely claiming that there was large-scale killing of white farmers in South Africa.
The South African government reacted swiftly to refute Mr Trump's assertion that white South Africans were being targeted.
It is not known if Mr Trump ever visited Africa before he became president or whether he had any business links with Africa.
What is the administration's Africa policy?
President Trump has not paid much attention to the continent, but has welcomed three African leaders, the presidents of Egypt, Nigeria and Kenya, to the White House.
When Rex Tillerson, Mr Trump's first secretary of state, visited Africa in March he said the themes of his trip were counterterrorism, democracy, governance, trade and investment.
Mr Tillerson warned Africa of China's economic engagement with the continent which he said encouraged dependency, utilised corrupt deals and endangered its natural resources.
He also announced a $533m (£380m) humanitarian African aid plan.
On the counterterrorism front Mr Trump's administration has escalated the fight against Islamist militants in the Sahel region and in Somalia.
The US has set up a drone base in Niger which is operated by the CIA.
SOURCE: BBC NEWS.
Do you have songs you want to promote, stories or exclusives articles you want our cherished readers to know about? Get in touch with us via e-mail, ghanamediaworld@gmail.com/
or WhatsApp 004915218034976. Click here for more info
FOR ADVERTISED IN OUR WEBPAGE  CONTACT  ghanamediaworld@gmail.com  OR visit www.ghanamediaworld.com
WE PUBLISHED 99% GHANA NEWS AND THE REST 1%  FOR OUTSIDE WORLD NEWS, GHANA FIRST,PUBLISHED  YOUR OWN FIRST TO WIN BETTER FUTURE WITH OUTSIDE WORLD LETS THEM SPEAKS YOUR OWN MOTHER LANGUAGES BEFORE THEY AQUIRE A VISA TO VISIT OUR MOTHERLAND COUNTRY GHANA. ENGLISH IS COMMON FOR EVERY COUNTRY IN THIS TO BE SPOKEN….BUT IN TERMS OF THINGS OF LANGUAGE,YOU DONT KNOWS THEM UNTIL THE TRUTH…..
DISCLAIMER: "The views expressed in this article are the sole responsibility of the author and do not neccessarily reflect those of  GhanaMediaWorld. The contents of this article are of sole responsibility of the author(s).  Ghana Media World will not be responsible or liable for any inaccurate or incorrect statements contained in this article." © GHANAMEDIAWORLD.COM
HAVE A SAY. WHAT DO YOU THINK? DROP COMMENTS!
SOURCE:  WWW.GHANAMEDIAWORLD.COM
@ghanamediaworld on Twitter / lnstagram  ghanamediaworld
Do you have a story for The Ghanameiaworld Online news team? Email us at ghanamediaworld@gmail.com Or call us:
THE NEWS ITEMS ARE REAL  AND WE ARE NOT FAKE MEDIA,WE ARE HERE  FOR YOU  BECAUSE OF  TRUELY MEDIA. IF NOT BECAUSE OF YOU, WE CANNOT BE GHANAMEDIAWORLD.COM OR WHAT WE HAVE REACH TO BE NOW.WE PUBLISH WHAT IS TRUELY INSIDE THE MEDIA OF THE WORLD, FROM JOURNALIST NEWS,MEDIA NEWS, STARS NEWS, PERSONAL PRIVATE ADVERTISED AND CELEBRATIES NEWS,AND FROM THE PEOPLE WE GET TO KNOW,THE REAL NEWS FROM AND TO GHANA MEDIA WORLD, WITHOUT HIDDEN THINGS FROM YOU AND FROM THE TRUTH THAT WE GET FROM MEDIA AND JOURNALIST.AND ALSO SOMEWHERE WE GET TO KNOWN.OUR MEDIA PAGE IS STILL NOT COMPLETED,THERE IS A LOTS TO BE DONE IN GHANA MEDIA WORLD PAGE ONLINE. PUBLISHED NEWS,WE ADVERTISE FOR PEOPLE,ETC.LISTEN TO MANY RADIO STATIONS IN OUR PAGE BY CLICK.
READ MORE @ WWW.GHANAMEDIAWORLD.COM
CONTACT OF MEDIA AND ADVITISED IN OUR WEBPAGE ,IF YOU NEED PROFECTIONALS RADIO STATION LIVE STREAMING FOR BROADCASTING TOOLS PLUS WEBPAGE,DOMAIN,WE ARE NUMBER ONE PROFECTIONALS TO HELP YOU,NEWS,RADIOS,MEDIA,MAGAZINES,ADVERTISMENTS.LIVE STREAMING PROVIDER.
WE ARE HUGE BIG COMPANY.
ONLINE RADIO SETUP FOR YOUR FM STATION ONLINE.
FOR YOUR ONLINE RADIO – Also for Your Media , FM Station, Church or As well as online Internet Radio Station.
We do it profectional.Its is your dream to set up an online radio station that will turn you into a major media hub in this country and the world as well as to enable promote your goods and services Globally.Then contact us immediately at ghanamediaworld@gmail.com or call us 004915218034976 OR 004917648327355.
We are running an express and affordable online radio set up for all.
Contact us and have a feel of what it feels to own an online radio and what we have for you.
Call or Whats App 004915218034976 NOW
THE ONLINE RADIO STATION DEVELOPED BY GHANAMEDIAWORLD.COM
CONTACT OUR E-MAIL ADDRESS  ghanamediaworld@gmail.com
SHARE OUR PAGE AND LIKE US IN FACEBOOK,INSTAGRAM,WHATSAPP,PINTEREST,YOUTUBE,LINKEDIN.
WE ARE NUMBER ONE TRUELY MEDIA.
'
Comment Below
comments