MEDIA URGED TO PROMOTE GHANA
MEDIA URGED TO PROMOTE GHANA.
Minister for Business Development, Ibrahim Mohammed Awal, has urged the media to support the government's plans to brand Ghana as a ready market and open for business.
He noted that the President had communicated the desire to make Ghana the most business friendly nation in Africa and so the media should take that as a brand and promote Ghana as being ready and open for business.
"It means that the media must help the government to champion and remove all obstacles to business and help create environment that will make business thrive", Mr Awal said.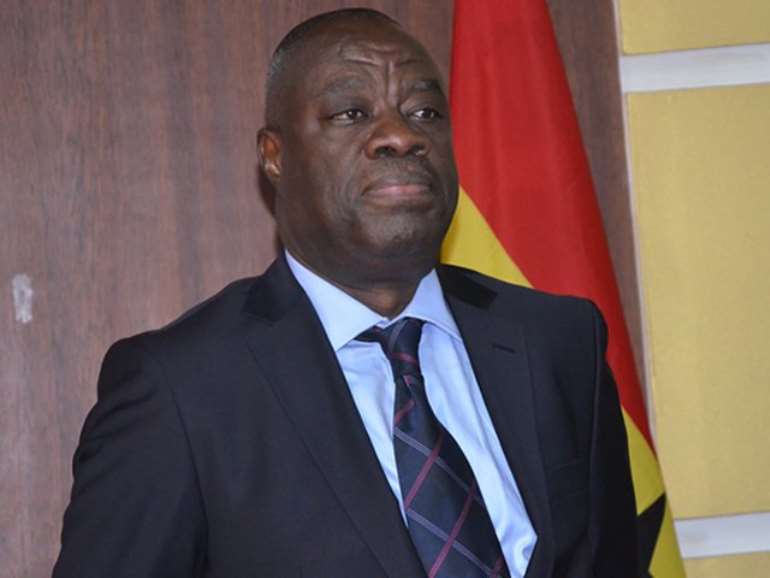 Ibrahim Mohammed Awal
Speaking at the a forum on Media Business Development on Wednesday in Accra, Mr Awal said since the media's role was indispensable, it needed to create spaces to highlight local Ghanaian businesses.
The forum was organised by the Media Foundation for West Africa (MFWA) in partnership with Citi FM and the Business and Financial Times, to facilitate periodic interactions between the media and business entities, aimed at helping promote businesses in Ghana.
It was on the theme: "Business Development in Ghana: the Role of the Media."
The forum was also used to launch the West Africa Media Excellence Conference and Awards" which is scheduled to take place in October and would be hosted in Ghana by MFWA.
Mr Awal said the media was very indispensable and so it needed to champion business interest by learning the little things about businesses and help create and promote local business brands.
He applauded media for their big role in holding government accountable and for being at the forefront in the fight against illegal mining.
He urged them to keep up with the fight to help sanitise the environment.
He noted that Ghana needed a media that was not too political but one that would push businesses which were scattered all over the country.
He described business and media as bedfellows that could not be separated and so asked the practitioners to help especially the SMEs to thrive.
He said SMEs contribute about 90 per cent of all businesses in the country but only 10 per cent of them survive after three years of start-up due to their failure to follow good governance structures and business practices.
"It is therefore important that the media partners businesses to thrive," Mr Awal said.
Mr Sulemana Braimah, the Executive Director of MFWA said the media constituted one of the most potent enablers of the overall development of societies.
He said for that matter, societies could not develop without thriving businesses, hence the need for the media to support the development of businesses.
He said media organisations were also businesses whose sustainability depended on the strength and capacity of other businesses to trade.
"So there is a symbiotic relationship between business development and media sustainability."
Nana Kwesi Gyan Apenteng Chairman of the National Media Commission, said media pluralism in Ghana required media personnel to be responsible and serve the public interest, including providing a platform to promote businesses.
He said as the media continued to evolve, many media houses, especially the radio stations that disregarded ethical and professionalism practices would disappear within 10 years.
"They will die out themselves," Mr Apenteng noted, while the professional ones would prevail.
FROM: GHANA NEWS AGENCY.
DISCLAIMER: "The views expressed in this article are the sole responsibility of the author and do not neccessarily reflect those of  Ghana Media World. The contents of this article are of sole responsibility of the author(s).  Ghana Media World will not be responsible or liable for any inaccurate or incorrect statements contained in this article." © GHANAMEDIAWORLD.COM
HAVE A SAY. WHAT DO YOU THINK? DROP COMMENTS!
SOURCE:  WWW.GHANAMEDIAWORLD.COM
@ghanamediaworld on Twitter / lnstagram  ghanamediaworld
Do you have a story for The Ghanameiaworld Online news team? Email us at ghanamediaworld@gmail.com Or call us:
THE NEWS ITEMS ARE REAL  AND WE ARE NOT FAKE MEDIA,WE ARE HERE  FOR YOU  BECAUSE OF  TRUELY MEDIA. IF NOT BECAUSE OF YOU, WE CANNOT BE GHANA MEDIA WORLD. OR WHAT WE HAVE REACH TO BE NOW.WE PUBLISH WHAT IS TRUELY INSIDE THE MEDIA OF THE WORLD FROM JOURNALIST NEWS,MEDIA NEWS AND FROM THE PEOPLE WE GET THE REAL NEWS FROM AND TO GHANA MEDIA WORLD, WITHOUT HIDDEN THINGS FROM YOU AND FROM THE TRUTH THAT WE GET FROM MEDIA AND JOURNALIST.AND ALSO SOMEWHERE WE GET TO KNOWN.OUR MEDIA PAGE IS STILL NOT COMPLETED,THERE IS A LOTS TO BE DONE IN GHANA MEDIA WORLD PAGE.FOR THE MEAN TIME WE PUBLISHED NEWS,WE ADVERTISE FOR PEOPLE,ETC.LISTEN TO MANY RADIO STATIONS IN OUR PAGE BY CLICK.
READ MORE @ WWW.GHANAMEDIAWORLD.COM
CONTACT OF MEDIA AND ADVITISED IN OUR WEBPAGE ,IF YOU NEED PROFECTIONALS RADIO STATION LIVE STREAMING FOR BROADCASTING TOOLS PLUS WEBPAGE,DOMAIN,WE ARE NUMBER ONE PROFECTIONALS TO HELP YOU,FOR QUETIONS,CONTACT OUR E-MAIL ADDRESS  ghanamediaworld@gmail.com
SHARE OUR PAGE AND LIKE US IN FACEBOOK,INSTAGRAM,WHATSAPP,PINTEREST,YOUTUBE,LINKEDIN.
WE ARE NUMBER ONE TRUELY MEDIA.
Comment Below
comments