KIT OF GHANA RUGBY EAGLES LANDS IN ACCRA
KIT OF GHANA RUGBY EAGLES LANDS IN ACCRA.
The brand new kit flown in from both South Africa and the UK for the Ghana Rugby national team, the Ghana Eagles, has landed in Accra a few days short of the kickoff of the first match against Benin at the Accra Sports Stadium on Sunday 30 April at 3 pm.
The production of the kit was necessitated to equip the national Rugby team for their encounters in the Rugby Africa Regional Challenge Tournament – Group West 1 between Benin, Ghana and Togo that will take place between 30 April 2017 and 7 May 2017.
The President of Ghana Rugby, Mr Herbert Mensah, presented the kit to the Ghana Eagles while addressing the team about their upcoming challenges.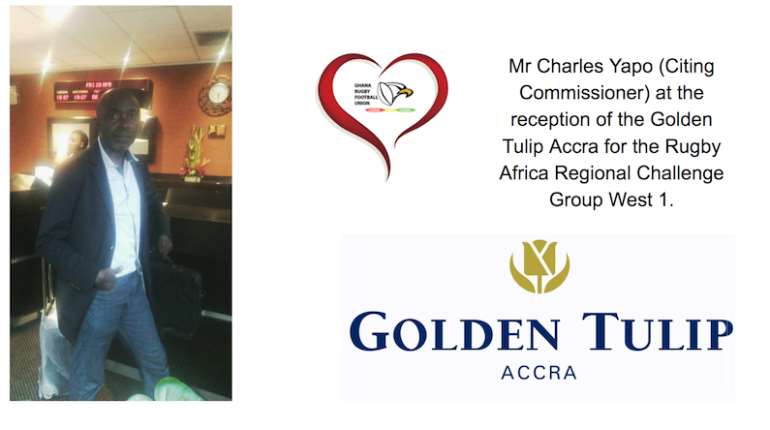 In his motivational address, he reminded the Eagles to live the Rugby value of teamwork as well as the other values of integrity, passion, discipline and respect both on- and off the field.
Mensah said that the team could only succeed if they are united whether they are in their camp or whether they are on the pitch training or playing.
"Your mission and sole objective are to win your matches. In the process, you should remember that a great great player is not always the one who has the ball, but the one who supports the one with the ball." Mensah said.
Herbert Mensah also said that they must never forget that when they get back to their communities, they will be seen as national heroes and that they must be able to go back and be respected and honoured.
The kit and equipment that was flown in from South Africa and the UK and consisted of team kit (jerseys, pants, and socks) as well as training equipment such as tackling bags, tackling shield and cones. Ghana Rugby also had to acquire the trophies and medals for the tournament participants.
The tournament consists of three matches on Sunday 30 April with Benin vs. Ghana followed by a midweek match on Wednesday 3 May (Benin vs. Togo) and the final encounter Sunday 7 May: Ghana vs. Togo..
In another development, Accra Brewery Limited with its CLUB Lager brand has joined hands with Ghana by announcing that they will put up a beer tent during the three matches. Some of the sales will be hundred percent subsidizes by ABL while Ghana Rugby will, also, earn money through additional sales.
The Golden Tulip Accra also joined the Ghana Rugby family with a very generous contribution of free accommodation and meals for the VIPs of the Ghana Rugby Union.
Mr Mensah said that the contributions by corporate bodies such as the Gino brands, Interplast, the Golden Tulip Accra, CLUB Lager, AMS, eVerpure, and others must be applauded in the light of the total and absolute failure of the Ghana Government and other sporting bodies to support such an important international event.
Ghana Rugby Football Union (GRFU)
Website: http://ghanarugby.org/ Facebook: https://www.facebook.com/groups/Rugbygh/ Email: info@ghanarugby.org
DISCLAIMER: "The views expressed in this article are the sole responsibility of the author and do not neccessarily reflect those of  Ghana Media World. The contents of this article are of sole responsibility of the author(s).  Ghana Media World will not be responsible or liable for any inaccurate or incorrect statements contained in this article." © GHANAMEDIAWORLD.COM
HAVE A SAY. WHAT DO YOU THINK? DROP COMMENTS!
SOURCE:  WWW.GHANAMEDIAWORLD.COM
@ghanamediaworld on Twitter / lnstagram  ghanamediaworld
Do you have a story for The Ghanameiaworld Online news team? Email us at ghanamediaworld@gmail.com Or call us:
THE NEWS ITEMS ARE REAL  AND WE ARE NOT FAKE MEDIA,WE ARE HERE  FOR YOU  BECAUSE OF  TRUELY MEDIA. IF NOT BECAUSE OF YOU, WE CANNOT BE GHANA MEDIA WORLD. OR WHAT WE HAVE REACH TO BE NOW.WE PUBLISH WHAT IS TRUELY INSIDE THE MEDIA OF THE WORLD FROM JOURNALIST NEWS,MEDIA NEWS AND FROM THE PEOPLE WE GET THE REAL NEWS FROM AND TO GHANA MEDIA WORLD, WITHOUT HIDDEN THINGS FROM YOU AND FROM THE TRUTH THAT WE GET FROM MEDIA AND JOURNALIST.AND ALSO SOMEWHERE WE GET TO KNOWN.OUR MEDIA PAGE IS STILL NOT COMPLETED,THERE IS A LOTS TO BE DONE IN GHANA MEDIA WORLD PAGE.FOR THE MEAN TIME WE PUBLISHED NEWS,WE ADVERTISE FOR PEOPLE,ETC.LISTEN TO MANY RADIO STATIONS IN OUR PAGE BY CLICK.
READ MORE @ WWW.GHANAMEDIAWORLD.COM
CONTACT OF MEDIA AND ADVITISED IN OUR WEBPAGE ,IF YOU NEED PROFECTIONALS RADIO STATION LIVE STREAMING FOR BROADCASTING TOOLS PLUS WEBPAGE,DOMAIN,WE ARE NUMBER ONE PROFECTIONALS TO HELP YOU,FOR QUETIONS,DONATIONS,CONTACT OUR E-MAIL ADDRESS  ghanamediaworld@gmail.com
SHARE OUR PAGE AND LIKE US IN FACEBOOK,INSTAGRAM,WHATSAPP,PINTEREST,YOUTUBE,LINKEDIN.
WE ARE NUMBER ONE TRUELY MEDIA.
Comment Below
comments