ISLAMIC MARRIAGE ANNULLED AFTER TAMALE MAN MARRIES TWO WOMEN
ISLAMIC MARRIAGE ANNULLED AFTER TAMALE MAN MARRIES TWO WOMEN.
A High Court in Tamale in the Northern region has annulled an Islamic marriage of a man who was found to have married another woman by Ordinance.
Annulling the second marriage of Abdul Razak, the presiding judge Justice Edward Apenkwa was emphatic that his marriage to Rukaiya Mohammed contravenes Ordinance CAP 127 which mandates a man to be married to one woman.
The judge was unequivocal that Razak must not be seen together with his illegally married wife, Rukaiya.
Razak had celebrated his Islamic marriage to Mohammed Rukaiya on January 8, 2017 after he returned from a year's stay in Belgium.
But his first wife, a 30-year-old Ayisha who had hoped that her husband's return would mean fresh impetus for her marriage was left devastated by the news.
She secured the services of the Legal Aid Board and proceeded to court.
Aisha had married Razak in December 2013 under Ordinance, a move which was advocated by her husband. Being Muslims, it was expected that the marriage will be by Islamic traditions which allows a man to marry more than one woman.
But Aisha said Razak was so much in love with her and wanted to use the Marriage by Ordinance to stress his vow to remain a one-woman husband.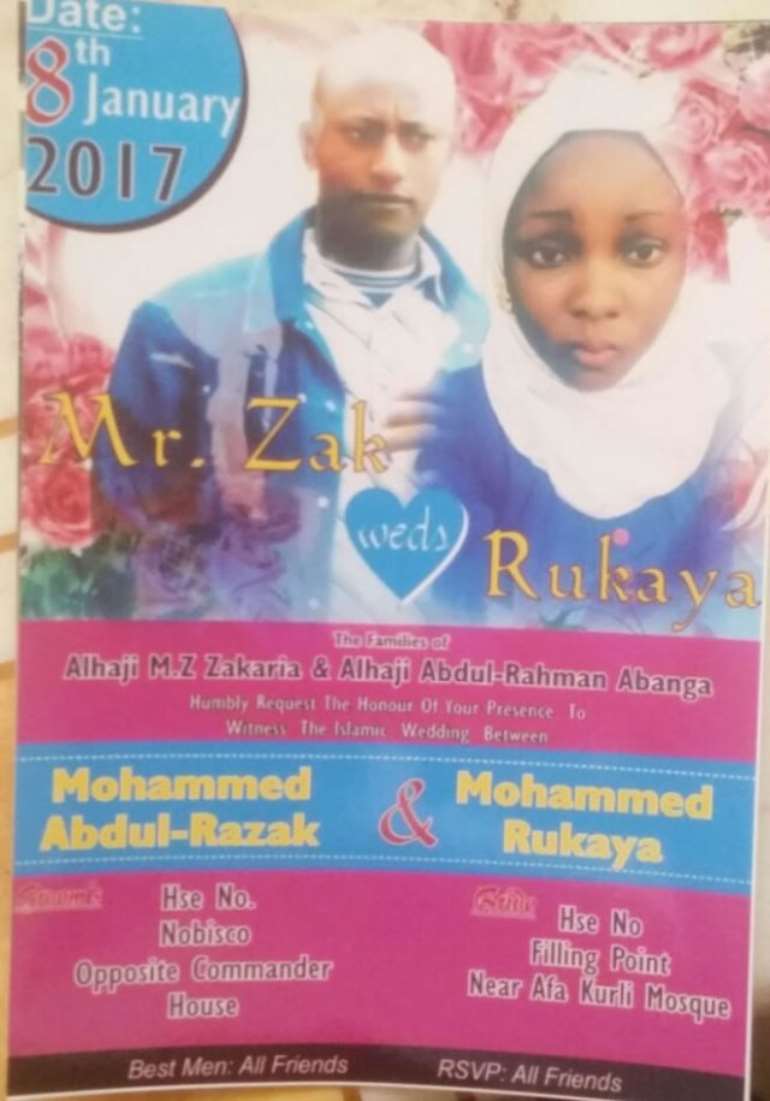 According to Joy News' Hashmin Mohammed, before the Ordinance marriage, Razak was extensively counselled on the repercussions of going the Ordinance way.
Razak married Aisha and soon after travelled to seek greener pastures in Belgium. The court heard that the two never communicated while Razak was away. He did not take care of his wife who is also a trader.
Razak returned suddenly last December and broke the news to his wife that he intends to marry another wife.
In a conservative society where marital issues are kept out of litigation, Aisha defied the odds and went to court. No amount of pressure from family and faith could dissuade her from instituting legal proceedings against her husband.
The judge was 'very, very clear' that Razak should not be seen with Mohammed Rukaiya in any way that creates the impression that they are married.
The judge granted the following reliefs:
1. Ayisha Tahiru, the plaintiff married under the marriage ordinance CAP. 127 on the 5th Dec, 2013 at the district court in Tamale and that marriage is in force and binding on the 1st defendant mohammed Abdul Razak.
2.an order directed that mohammed Abdul Razak new wedding, Islamic and customary marriage on the 8th January 2017, is annulled and declared void, invalid and of no legal effect.
3.Both mohammed Abdul Razak and his new wife mohammed Rukaiya cannot hold themselves out as husband and wife, living together, cohabiting and doing any thing as such.
4. A punitive cost of 1000 cedis has being awarded against mohammed Abdul Razak.
Story by Ghana|myjoyonline.com|EA
HAVE A SAY. WHAT DO YOU THINK? DROP COMMENTS!
SOURCE:  WWW.GHANAMEDIAWORLD.COM
@ghanamediaworld on Twitter / lnstagram  ghanamediaworld
Do you have a story for The Ghanameiaworld Online news team? Email us at ghanamediaworld@gmail.com Or call us:
THE NEWS ITEMS ARE REAL  AND WE ARE NOT FAKE MEDIA,WE ARE HERE  FOR YOU  BECAUSE OF  TRUELY MEDIA. IF NOT BECAUSE OF YOU, WE CANNOT BE GHANA MEDIA WORLD. OR WHAT WE HAVE REACH TO BE NOW.WE PUBLISH WHAT IS TRUELY INSIDE THE MEDIA OF THE WORLD FROM JOURNALIST NEWS,MEDIA NEWS AND FROM THE PEOPLE WE GET THE REAL NEWS FROM AND TO GHANA MEDIA WORLD, WITHOUT HIDDEN THINGS FROM YOU AND FROM THE TRUTH THAT WE GET FROM MEDIA AND JOURNALIST.AND ALSO SOMEWHERE WE GET TO KNOWN.OUR MEDIA PAGE IS STILL NOT COMPLETED,THERE IS A LOTS TO BE DONE IN GHANA MEDIA WORLD PAGE.FOR THE MEAN TIME WE PUBLISHED NEWS,WE ADVERTISE FOR PEOPLE,ETC.LISTEN TO MANY RADIO STATIONS IN OUR PAGE BY CLICK.
READ MORE @ WWW.GHANAMEDIAWORLD.COM
CONTACT OF MEDIA AND ADVITISED IN OUR WEBPAGE ,IF YOU NEED PROFECTIONALS RADIO STATION LIVE STREAMING FOR BROADCASTING TOOLS PLUS WEBPAGE,DOMAIN,WE ARE NUMBER ONE PROFECTIONALS TO HELP YOU,FOR QUETIONS,DONATIONS,CONTACT OUR E-MAIL ADDRESS  ghanamediaworld@gmail.com
SHARE OUR PAGE AND LIKE US IN FACEBOOK,INSTAGRAM,WHATSAPP,PINTEREST,YOUTUBE,LINKEDIN.
WE ARE NUMBER ONE TRUELY MEDIA.
Comment Below
comments