GHANA'S AMBASSADOR TO GERMANY PRESENTS LETTERS OF CREDENCE
GHANA'S AMBASSADOR TO GERMANY PRESENTS LETTERS OF CREDENCE.
The newly-appointed Ambassador of Ghana to Germany, Georgina Ama Blay, has presented her letters of credence to the President of that country, Dr Frank-Walter Steinmeier.
Ambassador Blay made the presentation at a ceremony at the Castle Bellevue in Berlin on Tuesday, August 29, DAILY GUIDE has gathered.
She and her entourage were accordingly welcomed by a Guard of Honour mounted by a detachment of the German Armed Forces.
They were then ushered into the German Presidential Palace where she appended her signature in the Official Guest Book.
After introducing members of her delegation, including her husband, Freddie Blay, to the President, Mrs Gina Blay and President Steinmeier reportedly proceeded to hold a closed-door meeting.
The discussions were believed to centre on bilateral relations between Ghana and the Federal Republic of Germany, as well as regional, African and international issues.
Speaking at a reception, Mrs Blay observed that the official commencement of her work as ambassador "presents yet another fine opportunity for us to expand the frontiers of our bilateral relations with Germany."
She explained that "this comes against the backdrop of successful general elections in Ghana on 7thDecember, 2016 – the 7th of such since our return to multi-party constitutional democracy in 1992- and the resultant swearing-in of His Excellency, Nana Addo Dankwa Akufo-Addo as the new President of the Republic of Ghana on 7th January, 2017.
"This event is also taking place at a time when we are observing a year-long celebration of the 60th anniversary of Ghana's Independence."
According to her, 60 years of nationhood is a significant milestone in the life of every nation, adding that a lot had happened in Ghana over this period.
The ambassador indicated that "we have had our fair share of challenges, but also our good moments. In all this, we take pride in what we have achieved through our collective efforts and are inspired by the increasing enthusiasm of our people, especially the youth of our country, to achieve even more as a nation.
"We are also fortunate to have been able to nurture mutually beneficial relations with friends and partners like Germany throughout this journey."
Developmental Deficit
Mrs Blay spoke about the developmental challenges still facing Ghana and what was being done by President Akufo-Addo's NPP administration to remedy the situation and ensure a decent livelihood for all Ghanaians.
"In particular, there is still a lot that we want to do to improve the quality of lives of our people. My task as ambassador will therefore be to marshal and leverage all the resources at our disposal and explore all the avenues to deepen the existing relationship between Ghana and Germany and through that contribute to achieve government's commitment to develop and transform Ghana beyond being a recipient of aid."
She stressed her readiness to partner the German government in order to improve upon the bilateral relations between both nations, saying, "I am looking forward to give added impetus to existing areas of cooperation between our two countries; such as entrepreneurial and skills development, and the promotion of vocational and technical education, drawing from the German experience where appropriate."
Attendees
Present at the ceremony were the Dean of African Ambassadors to Federal Republic of Germany, Jean-Marc Mpay of Cameroon; fellow ambassadors from other African countries; officials and representatives of the Federal Republic of Germany; business executives; journalists, as well as some Ghanaian traditional rulers in Germany; the Chief Imam, among others.
Prior to her appointment by President Akufo-Addo, Mrs Blay, wife of the New Patriotic Party Acting National Chairman, was the Chief Executive Officer (CEO) of Western Publications Limited, publishers of DAILY GUIDE.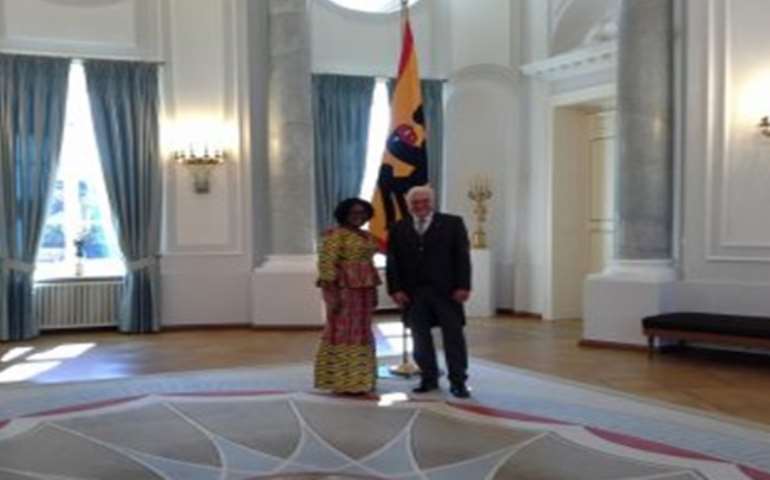 President Frank-Walter Steinmeier of the Federal Republic of Germany (r) with Her Excellency Ambassador Gina Ama Blay Photo: MUSAH/ANA-Zongo News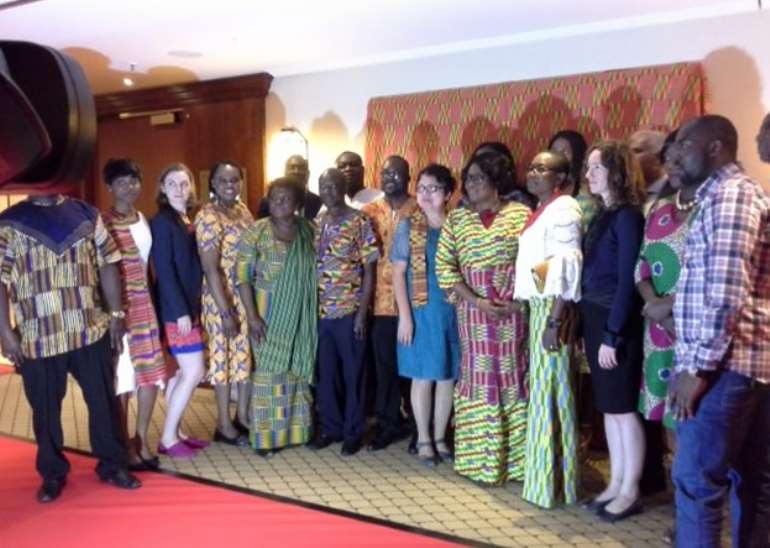 A group photograph of Ambassador Gina Blay and some invited guests at the reception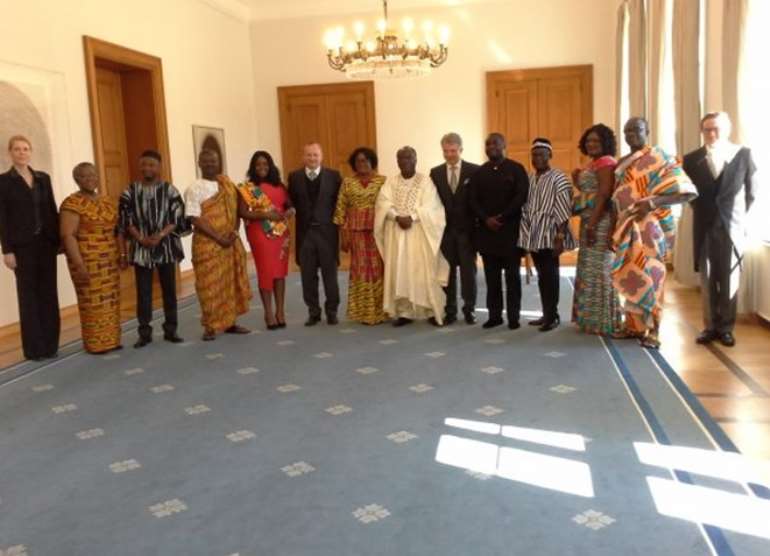 By Melvin Tarlue.
FOR ADVERTISED IN OUR WEBPAGE  CONTACT  ghanamediaworld@gmail.com  OR visit www.ghanamediaworld.com
DISCLAIMER: "The views expressed in this article are the sole responsibility of the author and do not neccessarily reflect those of  Ghana Media World. The contents of this article are of sole responsibility of the author(s).  Ghana Media World will not be responsible or liable for any inaccurate or incorrect statements contained in this article." © GHANAMEDIAWORLD.COM
HAVE A SAY. WHAT DO YOU THINK? DROP COMMENTS!
SOURCE:  WWW.GHANAMEDIAWORLD.COM
@ghanamediaworld on Twitter / lnstagram  ghanamediaworld
Do you have a story for The Ghanameiaworld Online news team? Email us at ghanamediaworld@gmail.com Or call us:
THE NEWS ITEMS ARE REAL  AND WE ARE NOT FAKE MEDIA,WE ARE HERE  FOR YOU  BECAUSE OF  TRUELY MEDIA. IF NOT BECAUSE OF YOU, WE CANNOT BE GHANA MEDIA WORLD. OR WHAT WE HAVE REACH TO BE NOW.WE PUBLISH WHAT IS TRUELY INSIDE THE MEDIA OF THE WORLD, FROM JOURNALIST NEWS,MEDIA NEWS, STARS NEWS, PERSONAL PRIVATE ADVERTISED AND CELEBRATIES NEWS,AND FROM THE PEOPLE WE GET TO KNOW,THE REAL NEWS FROM AND TO GHANA MEDIA WORLD, WITHOUT HIDDEN THINGS FROM YOU AND FROM THE TRUTH THAT WE GET FROM MEDIA AND JOURNALIST.AND ALSO SOMEWHERE WE GET TO KNOWN.OUR MEDIA PAGE IS STILL NOT COMPLETED,THERE IS A LOTS TO BE DONE IN GHANA MEDIA WORLD PAGE ONLINE.FOR THE MEAN TIME WE PUBLISHED NEWS,WE ADVERTISE FOR PEOPLE,ETC.LISTEN TO MANY RADIO STATIONS IN OUR PAGE BY CLICK.
READ MORE @ WWW.GHANAMEDIAWORLD.COM
CONTACT OF MEDIA AND ADVITISED IN OUR WEBPAGE ,IF YOU NEED PROFECTIONALS RADIO STATION LIVE STREAMING FOR BROADCASTING TOOLS PLUS WEBPAGE,DOMAIN,WE ARE NUMBER ONE PROFECTIONALS TO HELP YOU,FOR QUETIONS,DONATIONS,CONTACT OUR E-MAIL ADDRESS  ghanamediaworld@gmail.com
SHARE OUR PAGE AND LIKE US IN FACEBOOK,INSTAGRAM,WHATSAPP,PINTEREST,YOUTUBE,LINKEDIN.
WE ARE NUMBER ONE TRUELY MEDIA.
Comment Below
comments