GHANA SHOPPING MALLS: 5 LATEST INTERNATIONAL STANDARD GHANAIAN MALLS WORTH MILLIONS OF DOLLARS
GHANA SHOPPING MALLS: 5 LATEST INTERNATIONAL STANDARD GHANAIAN MALLS WORTH MILLIONS OF DOLLARS.
A significant boom and stability is being recorded in Ghana's economy of recent times. This economic growth and improvement is affecting almost every aspect of the Ghana community. A few years ago, shopping in Ghana meant boarding a bus to the city centre and wading through crowds of people into an open market to bargain for items. This practice still continues, but with the development of formal, western-style malls that also serve as popular hangouts and meeting places, especially on weekends and holidays, a different retail phenomenon is beginning to attract shoppers away from open markets. When the West Hills Mall came in place, it was thought to be the grandest but just as the president commented during its official opening, grander Ghana shopping malls are on their way…
Check out the 5 Most Expensive Ghana Shopping Malls:
5. Accra Mall – 2007
The Accra Mall is a shopping center in Accra, Ghana. The mall was commissioned on the 4th of July 2008. It is located on the Spintex road adjacent the Tema Motorway. The Accra Mall is the first large-scale shopping centre in Ghana, and also one of the most modern shopping malls in West Africa. It is comparable to other similar sized malls anywhere in the world. The brain behind the birth of this pioneering retail venture, which cost $36 million and took twenty-months to build, Mr. Joseph Owusu-Akyaw, a retired career banker and now retail development expert. The enclosed, fully air-conditioned shopping centre has 20,000m² of retail space, with parking for over 900 cars. The Accra Mall accommodates 65 line-shops of which 30% are operated by Ghanaian retailers. It showcases a food court operated by international franchises such as Barcelos, Ocean Sting and Rhraspody. The Accra Mall is anchored by two South African retail giants: Shoprite, a food retail enterprise, which occupies 3,500m² of the retail space and carries over 2000 items on its shelves; and Game Stores, which carries household goods and occupies 5,000m² of space. Also present are Mr Price a South African based clothing and accessories retailers. Today Ghana has specific day called the Accra Mall Day, on this day majority of the youth move to the mall to have lots of fun.
4. Marina Mall – 2013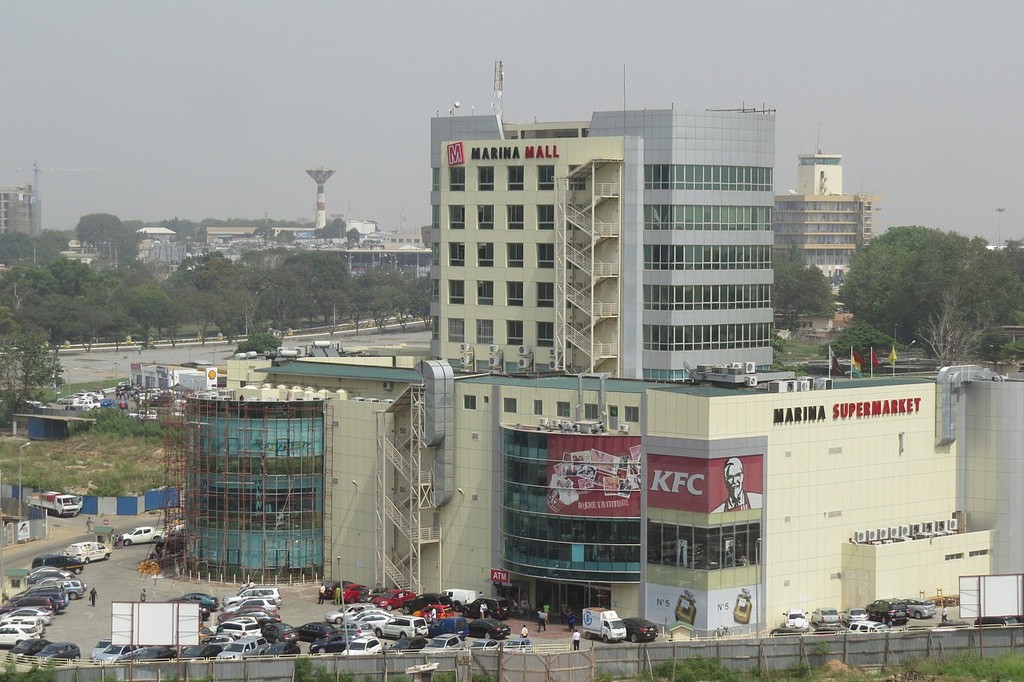 Marina Mall was constructed and owned by Marina Market Ghana which belongs to Marina Group, a company founded in 1989 and located in Ghana, Burkina Faso and Niger. The mall has a six level tower of offices with an approximate total area of 12, 250m². The basement comprises numerous supermarket operated by its anchor tenant and owners of the Mall. Beside that, this floor counts with different kind of services: pharmacy, bed and linen, electronic, mobile and accessory, babies and toddlers, beauty and perfume shops, the ground floor has the concept of housing high-end branded clothing shops, jewelry and accessories and so on. The Mall is also strategically positioned, very close to the International Airport, Airport Residential Area, Cantonments, Golden Tulip Hotel, Holiday Inn, the upcoming Marriot Hotel and the other offices in the Airport City area.
3. Junction Shopping Mall – 2014
The turn to get a big shopping center or a mall has come to the seashore community of Nungua, in between Accra and Tema. The construction of the mall took a whopping $33.7 million. The Junction Shopping Mall was built by a South African construction company, RMDWestPort, and also owned by same. The mall which occupies a total of 11, 592m² ,has shoprite as its anchor tenant and comprises 65 shops including well known shops like Mr Price clothing, Shoprite ( food/department store), Telefonica, Nallem clothing, Bata shoes. New additions were South African low cost chain JET, a Techno phones shop , Lego ( Danish toy for kids), and some other clothing shops. It was opened on the 27th of November, 2014.
2. West Hills Mall – 2014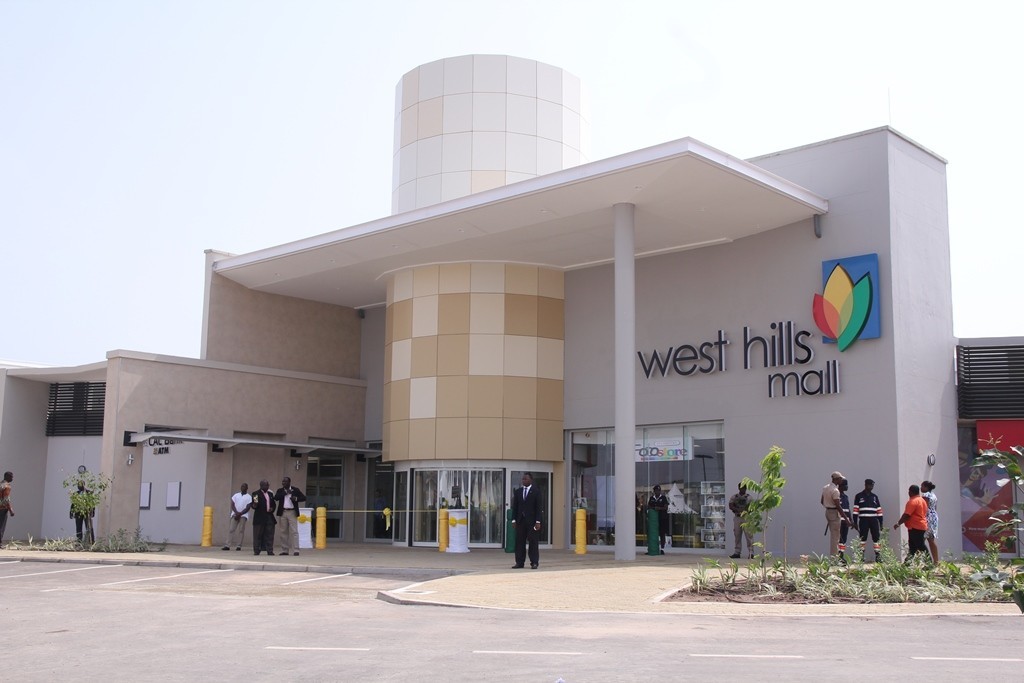 The West Hills Mall has been the biggest shopping mall in West Africa, before the Kumasi City mall was conceived. It is located at Dukonah, near Weija, along the Accra- Cape coast highway in the Greater Acccra region of Ghana. The Mall which took a whopping $93 million to build is jointly owned by Delico Property Developments, Social Security and National Insurance Trust. The 23 acre West Hill Mall which was constructed by South-African real estate contractors, is to house 67 local shops, 65 line shops from Ghana and around the world, international shops, and two major tenants, Shoprite and Palace Supermarket. The Mall offers a wide variety of product categories such as lifestyle, beauty and wellness; electrical, electronics and telecommunications; banking and financial services; a pharmacy with outpatient consulting facilities; restaurants; designer fashion and clothing stores; gifts and other merchandise of high value. One of the most interesting features of West Hills Mall is its massive entertainment and recreational gallery, which has a special square for open-air concerts and theatrical shows with a sitting capacity for 1,500 people. The mall was opened on the 30th of October, 2014, and was launched by the President himself on the 25th of November, same year. He encouraged the initiators to do more of such in other cities of Ghana as it will certainly bring tremendous benefits to both foreigners and citizens of the country.
1. Kumasi City Mall – 2017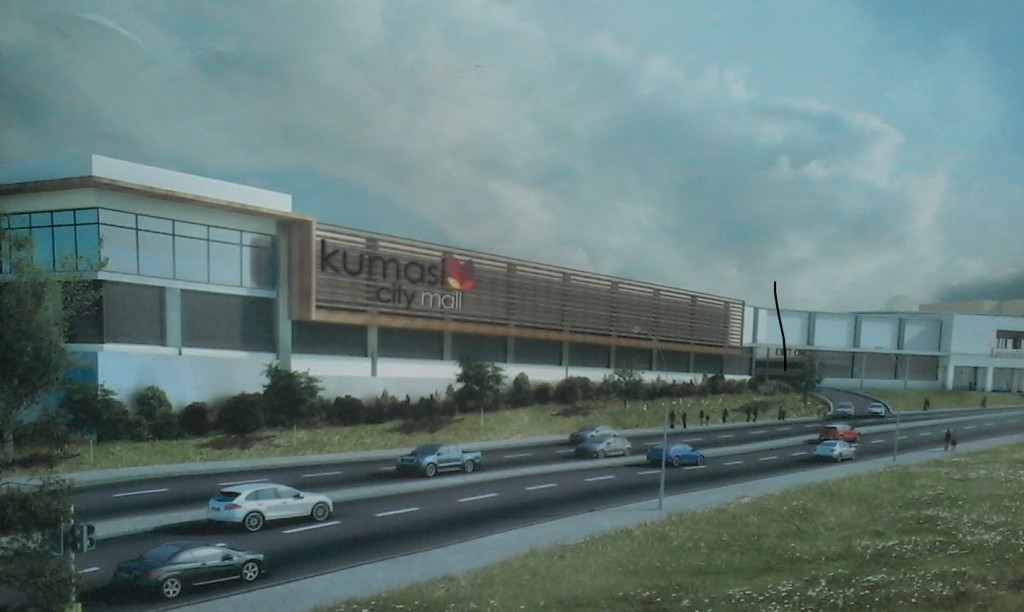 The President's encouragement during the opening of the West Hills Mall appears to have started to materialize looking at what will soon be birthed in Kumasi – the Kumasi City Mall being constructed at the Asokwa industrial area on the lake road. Kumasi will soon be home to West Africa's biggest shopping mall of US$110 million which would occupy an area of 29,000m², and house a number of local and international shops. The Kumasi City Mall project is set to be opened in 2017. The Mall is a joint project between Delico Kumasi Limited, a subsidiary of Delico Property Developments -Mauritius and Atterbury Investment Ltd South Africa.
BY:  PEACE EZEBUIRO.
DISCLAIMER: "The views expressed in this article are the sole responsibility of the author and do not neccessarily reflect those of  Ghana Media World. The contents of this article are of sole responsibility of the author(s).  Ghana Media World will not be responsible or liable for any inaccurate or incorrect statements contained in this article." © GHANAMEDIAWORLD.COM
HAVE A SAY. WHAT DO YOU THINK? DROP COMMENTS!
SOURCE:  WWW.GHANAMEDIAWORLD.COM
@ghanamediaworld on Twitter / lnstagram  ghanamediaworld
Do you have a story for The Ghanameiaworld Online news team? Email us at ghanamediaworld@gmail.com Or call us:
THE NEWS ITEMS ARE REAL  AND WE ARE NOT FAKE MEDIA,WE ARE HERE  FOR YOU  BECAUSE OF  TRUELY MEDIA. IF NOT BECAUSE OF YOU, WE CANNOT BE GHANA MEDIA WORLD. OR WHAT WE HAVE REACH TO BE NOW.WE PUBLISH WHAT IS TRUELY INSIDE THE MEDIA OF THE WORLD FROM JOURNALIST NEWS,MEDIA NEWS AND FROM THE PEOPLE WE GET THE REAL NEWS FROM AND TO GHANA MEDIA WORLD, WITHOUT HIDDEN THINGS FROM YOU AND FROM THE TRUTH THAT WE GET FROM MEDIA AND JOURNALIST.AND ALSO SOMEWHERE WE GET TO KNOWN.OUR MEDIA PAGE IS STILL NOT COMPLETED,THERE IS A LOTS TO BE DONE IN GHANA MEDIA WORLD PAGE.FOR THE MEAN TIME WE PUBLISHED NEWS,WE ADVERTISE FOR PEOPLE,ETC.LISTEN TO MANY RADIO STATIONS IN OUR PAGE BY CLICK.
READ MORE @ WWW.GHANAMEDIAWORLD.COM
CONTACT OF MEDIA AND ADVITISED IN OUR WEBPAGE ,IF YOU NEED PROFECTIONALS RADIO STATION LIVE STREAMING FOR BROADCASTING TOOLS PLUS WEBPAGE,DOMAIN,WE ARE NUMBER ONE PROFECTIONALS TO HELP YOU,FOR QUETIONS,DONATIONS,CONTACT OUR E-MAIL ADDRESS  ghanamediaworld@gmail.com
SHARE OUR PAGE AND LIKE US IN FACEBOOK,INSTAGRAM,WHATSAPP,PINTEREST,YOUTUBE,LINKEDIN.
WE ARE NUMBER ONE TRUELY MEDIA.
Comment Below
comments