BOXING LEGEND MUHAMMED ALI DIES AGED 74
BOXING LEGEND MUHAMMED ALI DIES AGED 74….
Boxing legend Muhammad Ali has died at the age of 74, a spokesman for his family has confirmed.
The three-time world heavyweight champion had suffered from Parkinson's disease since 1984 – three years after he retired from the sport.
In the days before his death, Ali had been admitted to hospital suffering from respiratory problems, with reports suggesting the breathing problems had been complicated by his neurological disorder.
A statement from spokesman Bob Gunnell said: "Muhammad Ali's funeral will take place in his hometown of Louisville, Kentucky.
"The Ali family would like to thank everyone for their thoughts, prayers, and support and asks for privacy at this time."
:: 'I Am The Greatest': The Life Of Muhammad Ali
Boxing manager and promoter Frank Warren told Sky News: "The world has lost an iconic figure. As a boxer, he was one of the greatest of all time.
"Not only that, but he crossed over into the mainstream and became bigger than sport. He was probably one of the most recognised people on the planet.
"Muhammad Ali probably paved the way for Barack Obama becoming President of the United States. He changed the whole concept of being black in America."
Fellow boxing champion Roy Jones Jr tweeted: "My heart is deeply saddened yet both appreciative and relieved that the greatest is now resting in the greatest place.
"May God bless the family and all of us that are left behind that were deeply touched by his life. There will never ever be another one like him.
PHOTOS OF MOHAMMED ALI:
Ali was the first boxer to win the world heavyweight championship three times – a testament to his unique skills, athleticism and intelligence.
But Ali, the king of the ring, impossibly handsome and articulate, was far more than a boxing icon.
The American star transcended his sport to become a worldwide symbol of courage and dignity.
Ali was born Cassius Marcellus Clay in Louisville, Kentucky, on 17 January 1942.
He took up boxing at the age of 12 after someone stole his bike.
He was a natural and within six years had become Olympic light heavyweight champion.
He turned professional and the 18-year-old boxer had his first fight on 29 October 1960.
Before his sixth bout, against LaMar Clark on 19 April, 1961, Clay predicted a second-round knockout and made it come true.
He kept making successful predictions, although he was nearly undone in London in 1963 when Henry Cooper put him on the canvas.
Clay got up to win, and kept on winning – nothing was going to stop the "Louisville Lip".
Even so, Clay, then 22, was the underdog when he met the awesome Sonny Liston for the world heavyweight championship in Miami on 25 February 1964.
But he won the fight when Liston failed to come out for the eighth round and then knocked him out in the first round in their rematch the following May.
Soon after winning his first championship, Clay declared his allegiance to the Nation of Islam and changed his name to Muhammad Ali.
He defended the title eight times in the next 20 months, establishing himself as one of the most exciting and talented boxers of all time.
His catchphrase, "Float like a butterfly, sting like a bee", aptly described his remarkable combination of speed and power.
Ali was stripped of his title when he refused the Vietnam draft on religious grounds and was sentenced to five years in jail.
He appealed and eventually won. But in the meantime he was out of the ring for more than two years and never quite recaptured his scintillating form.
But he went on to win the heavyweight crown twice more, first from the big-hitting George Foreman in the "Rumble in the Jungle" in Zaire on 30 October 1974.
The fight was a master class in tactics, where Ali simply let Foreman punch himself to a standstill before knocking him out cold in the eighth round.
On his way home to the US, Ali made a surprise visit to a school in Brixton, south London, after being asked by an equality campaigner.
The following year, 1975, Ali won possibly his greatest fight, the celebrated "Thrilla in Manila", stopping 'Smokin' Joe Frazier in the 14th.
After 10 defences, he lost the title on points to Leon Spinks in February 1978, but reclaimed it in September the same year.
Ali was now 36 and decided to hang up his gloves after taking enough punishment to last several lifetimes.
Unwisely, he came out of retirement for another championship fight, against Larry Holmes on 2 October 1980.
Holmes knocked him out in the 11th round. Ali retired for good after losing on points to Trevor Berbick the following year.
Soon afterwards he announced he was suffering from Parkinson's disease, the debilitating illness which gives the sufferer the shakes.
Despite his poor health, he travelled the world supporting the campaign to end Third World debt and pressing for more research into Parkinson's.
Few will forget the sight of Ali holding aloft the Olympic torch at the 1996 Atlanta Games.
In 1999 he was welcomed again in Brixton during a UK visit to tackle international debt, and then three years later, he went to Afghanistan on a UN goodwill mission.
In 2009 he visited Ennis, County Clare, Ireland, the birthplace of his great-grandfather, Abe Grady, who emigrated from the town to the US in the 1860s.
Thousands of people turned out to see Ali, who was made the first honorary freeman of Ennis.
He also made a special appearance at the 2012 London Games where he helped to hold the Olympic flag.
His illness was plain for the whole world to see but so, too, was his fighting spirit and determination.
It came as no surprise when he was voted the 20th Century's top sportsman in Millennium polls on both sides of the Atlantic.
One of the greatest things about the 'Greatest' was that he never lost his sense of humour or his compassion.
One of the greatest fighters in the history of boxing, Muhammad Ali retired in 1981 after losing to Trevor Berbick in his 61st career bout. Here's a look some of the boxers Ali fought throughout his career.
Sonny Liston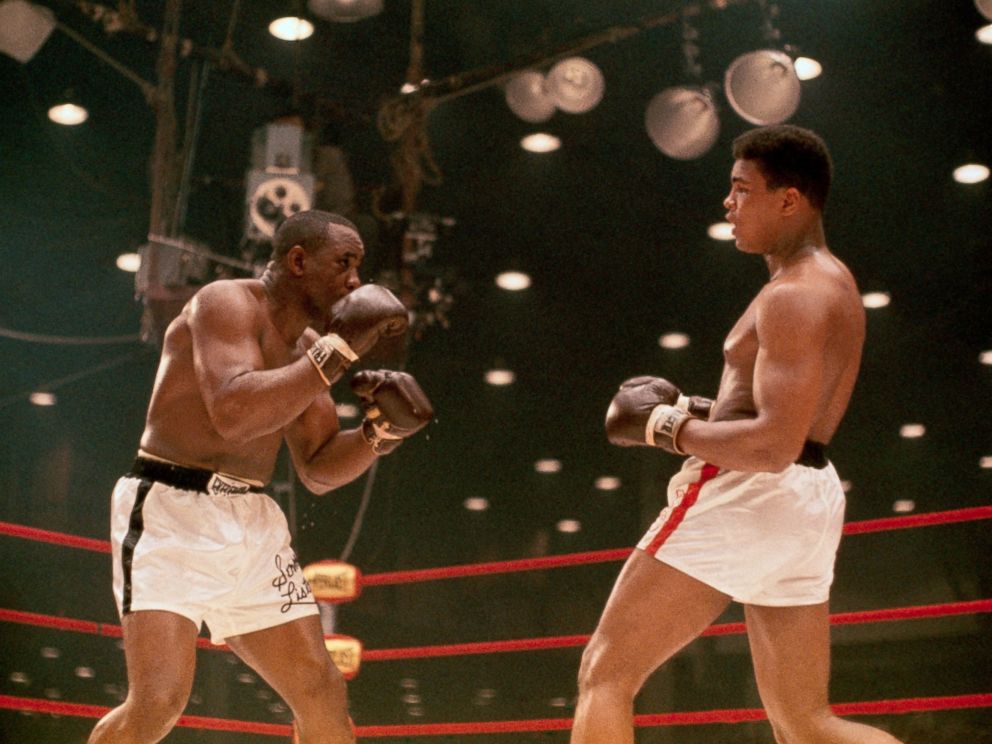 The brash, underdog, Ali promised boxing fans he'd "float like a butterfly, sting like a bee" against Sonny Liston. At age 22, he stunned the larger Liston, beating the champ in seven rounds in Miami to win his first heavyweight title. In their next match in 1965, Ali floored Liston with a hard, quick blow minutes into the bout and retained his crown when the referee stopped the fight.
Say the name Joe Frazier and the next thought in the minds of most is Ali. The connection is inevitable, and with Frazier gone, it may just be eternal. Frazier died on Nov. 7, 2011 after a fight with liver cancer.
For all of Frazier's successes, the Olympic gold medalist and former heavyweight champion, will likely forever be defined by his relationship with Ali. The two were the greatest heavyweights of their era, and two of the greatest of all time. They fought three times, and two — the so-called "Fight of the Century" at Madison Square Garden in 1971 and "The Thrilla in Manilla" in 1974 — are landmarks in the history of the sport.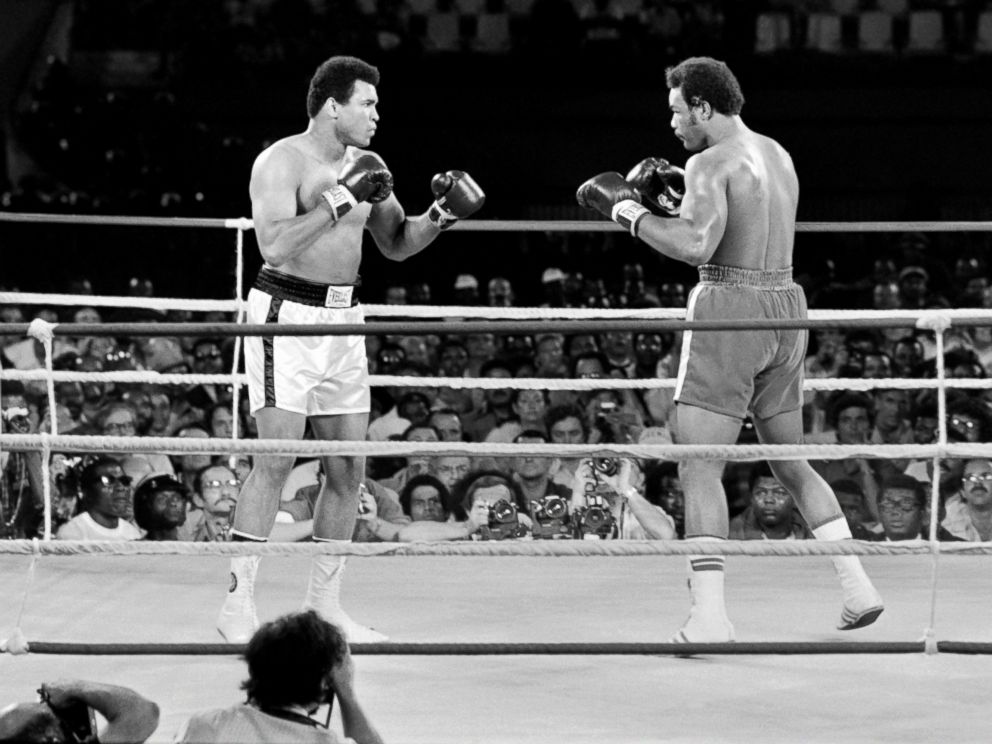 Following the unanimous 12-round decision in 1974 in the Frazier fight, Ali was set to go head to head against George Foreman in Zaire (now Congo) 10 months later. Ali won the "Rumble in the Jungle," knocking out Foreman in the eighth round and reclaiming the world heavyweight title. The bout was chronicled in the 1996 documentary "When We Were Kings."
Leon Spinks
On Feb. 15, 1978, Ali lost his heavyweight title to Leon Spinks, but beat Spinks seven months later to reclaim the crown. He finished his career in 1981 with a record of 56 wins (including 37 by knockout) and five losses.
Earnie Shavers
Boxer Earnie Shavers, nicknamed the "Acorn" fought Ali on Sept. 29, 1977 at Madison Square Garden. Shavers lost to Ali by unanimous decision.
"I had mixed feelings [before the fight]. I didn't want to beat Ali – he was a great guy – but I was fighting for the championship. I had to give my best," Shavers told "I thought he was faking it [in the second round], trying to suck me in, but he was hurt. If I'd have gone in I might have stopped him."
Ernie Terrell
Ernie Terrell and Ali fought in what was dubbed the "What's My Name Fight?" in 1967. The bout received that name after Terrell refused to call Ali by his new name. Ali was born Cassius Clay.
"If I was going to fight him, then I would call him Clay. If he don't like it, so? I did it on purpose. We were fighting. What was I supposed to do, give him Christmas gifts?" Terrell said of the fight.Terrell lost the fight to Ali.
SOURCE: SKY NEWS
MAY THE LORD REST IN PEACE MOHAMMED ALI THE GREATEST BOXER IN ALL CENTRIES,FROM GHANA MEDIA WORLD.
GHANA MEDIA WORLD IS THERE FOR YOU FOR EVERY SINGLE TRULY GOOD NEWS OF INTEREST.
THE NEWS ITEMS ARE REAL AND IS FOR YOU AND BECAUSE THAT,WE ARE HERE FOR YOU. IF NOT BECAUSE OF YOU, WE CANNOT BE GHANA MEDIA WORLD. OR WHAT WE HAVE REACH TO BE NOW.WE PUBLISH WHAT IS TRUELY INSIDE THE MEDIA OF THE WORLD FOR PEOPLE TO GET THE REAL NEWS OF GHANA MEDIA WORLD, WITHOUT HIDEN THINGS FROM YOU AND FROM THE TRUTH THAT WE GET FROM SOMEWHERE WE GET TO KNOWN.
READ MORE @ WWW.GHANAMEDIAWORLD.COM
CONTACT OF MEDIA AND ADVITISED IN OUR WEBPAGE ,IF YOU NEED PROFECTIONALS RADIO STATION LIVE STREAMING FOR BROADCASTING TOOLS PLUS WEBPAGE,DOMAIN,WE ARE NUMBER ONE PROFECTIONALS TO HELP YOU,FOR QUETIONS,DONATIONS,CONTACT OUR E-MAIL ADDRESS  ghanamediaworld@gmail.com
SHARE OUR PAGE AND LIKE US IN FACEBOOK,INSTAGRAM,WHATSUPP.
WE ARE NUMBER ONE TRUELY MEDIA.
Comment Below
comments