BETTER KEEP QUIET – OBIRI BOAHEN REPLIES MAHAMA
BETTER KEEP QUIET – OBIRI BOAHEN REPLIES MAHAMA.
New Patriotic Party (NPP) Deputy General Secretary Obiri Boahen has told former President John Dramani Mahama to zip it up following his criticism of government for sacking more than 830 public sector workers.
Nana Obiri Boahen pointed out, the sacking was because their employment late December 2016, was fraudulently done and therefore invalid.
Mass dismissals have been free-flowing in fulfilment of an NPP vow to disengage public sector employees it believed were hastily employed while the National Democratic Congress (NDC) was exiting power in 2016.
Describing it as 'last-minute' appointments, the Senior Minister Yaw Osafo Maafo minced no words about a fearless purging and pruning of persons on the pay roll believed to be political hangers-on.
Since then, government has sacked 205 workers at the National Service Secretariat, 525 National security operatives and more than 100 employees at the Driver and Vehicle Licensing Authority (DVLA).
Irked by these happenings, former President John Mahama took to social media to register his disappointment.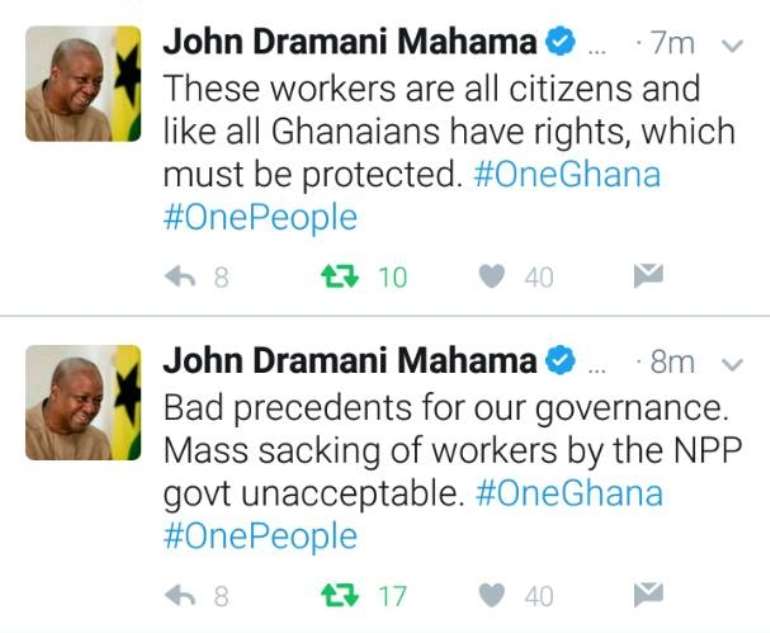 The NDC has been re-echoing the president's disappointment with the sacking.
Builsa South MP Dr. Clement Apaak speaking on the late afternoon political show Ekosii Sen on Asempa FM, Monday, believes the President was very measured in his 'bad governance' criticism
The first-timer in parliament chose to describe the move as 'winner sacks all' policy of a triumphant party eager to give jobs for its desperate supporters.
Aware of the NDC's own record of sacking of some perceived NPP sympathisers after it won power in 2009, Apaak suggested that two wrongs do not make a right.
He said the NPP was 'accentuating a blemish' done by the NDC and questioned the value of political retaliations inspite of a promised difference in the style of governance.
'Where is the change the NPP promised,' he wanted to know.
According to Apaak, the sacking was a negative devolution in the process of governance.
A party dye-in-the-wool, Obiri Boahen has rejected Dr. Apaak's criticisms and sent one over to the former president.
Pointing out his deep roots in politics since 1992, Obiri Boahen said Apaak needs the benefit of living in Ghana to appreciate the genesis of sackings in Ghana's politics of give-and-take.
Dr. Clement Apaak
Apaak, who confessed his territorial absence, needs to ask for explanations since he was 'cooling off' in Canada from 2009.
He explained that President John Agyakum Kufuor in a gesture of all inclusiveness appointed non-party people into positions of power.
An example of this magnanimity was the choice of CPP leader Prof. Hagan as National Commission on Culture boss.
Obiri Boahen said the NPP had hoped that the NDC after wining power would continue to allow suspected sympathisers of other parties to keep their post.
But the sacking was ruthless, he explained and pointed out the forensic sacking under NDC included managers of public toilets suspected to be NPP supporters.
The NPP Deputy General Secretary said a man while easing himself in a public facility was interrupted and driven out in a brazen show of political change
In a continuous citing of further examples, Obiri Boahen said some perceived NPP sympathisers were sacked under Mahama as recent as 2014.
Obiri Boahen said as legal counsel for the grieved and affected COCOBOD staff, he has been leading efforts in court to have that decision over-turned.
There appears to be light at the tunnel for them as there are indications from court they could be reinstated, he said.
He explained that far from being an example of bad governance, the dismissal is a sign that institutions are being allowed to operate without interference.
"Fraud vitiates everything" the legal practitioner said.
Obiri Boahen said in this matter, he would prefer that the former leader adopts the proverb 'silence is golden'.
But if the former President wants to comment on political developments, he should pay attention to the corruption revelations involving appointees in his government.
He said former President Mahama should have commented on corruption stories at National Communications Authority (NCA) and National Standards Authority.
BY: ADWOA AGYEMAN.
DISCLAIMER: "The views expressed in this article are the sole responsibility of the author and do not neccessarily reflect those of  Ghana Media World. The contents of this article are of sole responsibility of the author(s).  Ghana Media World will not be responsible or liable for any inaccurate or incorrect statements contained in this article." © GHANAMEDIAWORLD.COM
HAVE A SAY. WHAT DO YOU THINK? DROP COMMENTS!
SOURCE:  WWW.GHANAMEDIAWORLD.COM
@ghanamediaworld on Twitter / lnstagram  ghanamediaworld
Do you have a story for The Ghanameiaworld Online news team? Email us at ghanamediaworld@gmail.com Or call us:
THE NEWS ITEMS ARE REAL  AND WE ARE NOT FAKE MEDIA,WE ARE HERE  FOR YOU  BECAUSE OF  TRUELY MEDIA. IF NOT BECAUSE OF YOU, WE CANNOT BE GHANA MEDIA WORLD. OR WHAT WE HAVE REACH TO BE NOW.WE PUBLISH WHAT IS TRUELY INSIDE THE MEDIA OF THE WORLD FROM JOURNALIST NEWS,MEDIA NEWS AND FROM THE PEOPLE WE GET THE REAL NEWS FROM AND TO GHANA MEDIA WORLD, WITHOUT HIDDEN THINGS FROM YOU AND FROM THE TRUTH THAT WE GET FROM MEDIA AND JOURNALIST.AND ALSO SOMEWHERE WE GET TO KNOWN.OUR MEDIA PAGE IS STILL NOT COMPLETED,THERE IS A LOTS TO BE DONE IN GHANA MEDIA WORLD PAGE.FOR THE MEAN TIME WE PUBLISHED NEWS,WE ADVERTISE FOR PEOPLE,ETC.LISTEN TO MANY RADIO STATIONS IN OUR PAGE BY CLICK.
READ MORE @ WWW.GHANAMEDIAWORLD.COM
CONTACT OF MEDIA AND ADVITISED IN OUR WEBPAGE ,IF YOU NEED PROFECTIONALS RADIO STATION LIVE STREAMING FOR BROADCASTING TOOLS PLUS WEBPAGE,DOMAIN,WE ARE NUMBER ONE PROFECTIONALS TO HELP YOU,FOR QUETIONS,DONATIONS,CONTACT OUR E-MAIL ADDRESS  ghanamediaworld@gmail.com
SHARE OUR PAGE AND LIKE US IN FACEBOOK,INSTAGRAM,WHATSAPP,PINTEREST,YOUTUBE,LINKEDIN.
WE ARE NUMBER ONE TRUELY MEDIA.
Comment Below
comments