'AT LEAST 12 KILLED' IN IVORY COAST HOTEL ATTACK
      'At least 12 killed' in Ivory Coast hotel attack
At least 12 people have been killed, including four Europeans, after gunmen opened fire near hotels in Ivory Coast.
Between two and four attackers were reportedly involved in the assault on Sunday, launched on a beach in the popular seaside town of Grand-Bassam, a weekend retreat for residents of Abidjan, about 40km (25 miles)
Local media reported that gunmen had entered the L'Etoile du Sud (the Southern Star) hotel, taking guests and staff in the building hostage. A police source told Reuters a up to a dozen people were killed in the attack.
The attackers were "heavily armed and wearing balaclavas" and "fired at guests at L'Etoile du Sud, a large hotel which was full of expats in the current heatwave", a witness told AFP.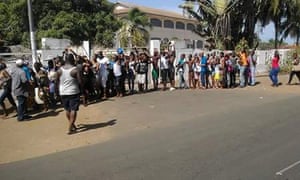 Scenes following a gun attack in Grand-Bassam. Photograph: Lopez Dobe (@lopezdobe)
Another witness told France24 that six people were killed and several others injured in the shooting. Graphic pictures appearing to show at least four dead bodies were posted on social media.
"I saw seven dead that I filmed. There were four attackers. I was swimming when it started and I ran away," said Dramane Kima, who showed the video of the bodies to Reuters.
He also took pictures of grenades and ammunition clips that he believed had been left behind by the attackers. A Reuters witness saw two wounded people.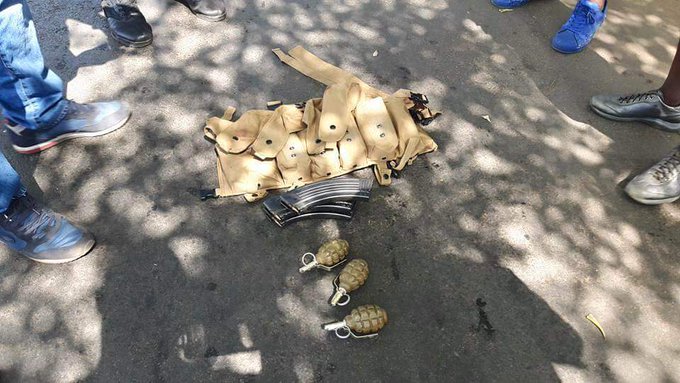 Local reports claimed the gunmen shouted "Allahu Akbar" as they opened fire, though it was not immediately clear who was behind the attack.
Special forces in the former French colony were on the scene and the beach where the shooting began was evacuated.
It was not immediately known how many people had been killed or injured or who was behind the shooting in the former French colonial capital, about 25 miles (40km) east of the commercial hub Abidjan.
Attacks in recent months on luxury hotels in the capitals of neighbouring Mali and Burkina Faso have killed dozens of people, leaving west African nations scrambling to boost security in the face of a growing jihadi threat.
Analysts have voiced fears that Islamist attacks could spread to countries such as Ivory Coast and Senegal, and the region's US-led Flintlock military exercises that wrapped up recently focused on the need to counter jihadism.
Grand-Bassam, which has about 80,000 inhabitants, holds Unesco world heritage status for its elegant colonial-era facades.
The attack took place nearly two months after Islamist fighters killed dozens of people in a hotel and cafe frequented by foreigners in neighbouring Burkina Faso's capital Ouagadougou, raising concern that the reach of militancy in west Africa was spreading.
Source: The Guardian
GHANA MEDIA WORLD IS THERE FOR YOU FOR EVERY SINGLE TRULY GOOD NEWS OF INTEREST
THE NEWS ITEMS ARE FOR YOU BECAUSE WE ARE HERE FOR YOU. IF NOT BECAUSE OF YOU, WE CANNOT BE GHANA MEDIA WORLD.
READ MORE @ WWW.GHANAMEDIAWORLD.COM
SHARE OUR PAGE AND LIKE US IN FACEBOOK
Comment Below
comments