AKUA DONKOR'S PARTY MEMBERS ARRESTED FOR ALLEGEDLY ROBBING HER
AKUA DONKOR'S PARTY MEMBERS ARRESTED FOR ALLEGEDLY ROBBING HER.
The Central Regional Chairman of the Ghana Freedom Party (GFP), Yakubu Yussif, and three members of the party are in the grips of the police for allegedly conspiring to rob the 2016 Flagbearer of the party, Akua Donkor.
The three are believed to have conspired with a known notorious gang leader, Abdul Razak Shaibu, who led two men to carry out the robbery at Sowutuom in Accra, in the early hours of December 30, 2016.
The Odorkor Divisional Police Commander, ACP Francis Aboagye Nyarko, revealed that the suspects will be arraigned soon after investigations have been conducted.
He noted that the robbers "succeeded in taking her [Akua Donkor's] bag and an unspecified about of dollars and Ghanaian currency. The bag contained a passport, a plane ticket, and an EC card."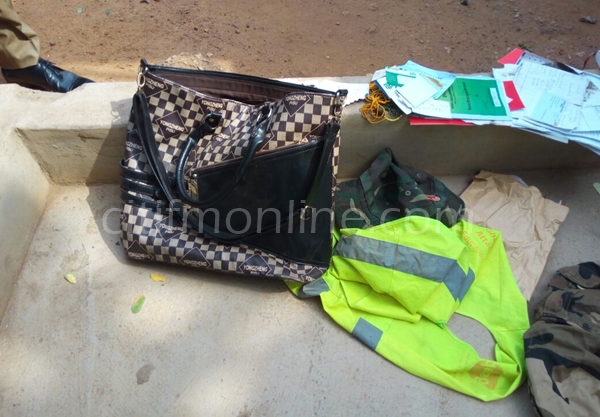 Mr. Yusif and the other party members were not present during the actual robbery, but ACP Nyarko said, "we believed that the driver, the Central Regional Chairman and one Opoku Agyeman, conspired with the guys to do that because they knew the woman was travelling to the United States at that particular time."
"Immediately after the act, the three were picked up and are currently in custody and intelligence led us to pick up Razak, the leader of the team that robbed her and he led us to where the bag was kept. We've been able to retrieve the bag but the money, the passport and those cards were not in the bag," ACP Nyarko added.
Photos: Kojo Agyemang
BY: DELALI ADODOGLA-BESSA/CITIFMONLINE.COM/GHANA.
HAVE A SAY. WHAT DO YOU THINK? DROP COMMENTS!
SOURCE:  WWW.GHANAMEDIAWORLD.COM
@ghanamediaworld on Twitter / lnstagram  ghanamediaworld
THE NEWS ITEMS ARE REAL  AND WE ARE NOT FAKE MEDIA,WE ARE HERE  FOR YOU  BECAUSE OF  TRUELY MEDIA. IF NOT BECAUSE OF YOU, WE CANNOT BE GHANA MEDIA WORLD. OR WHAT WE HAVE REACH TO BE NOW.WE PUBLISH WHAT IS TRUELY INSIDE THE MEDIA OF THE WORLD FOR PEOPLE TO GET THE REAL NEWS OF GHANA MEDIA WORLD, WITHOUT HIDDEN THINGS FROM YOU AND FROM THE TRUTH THAT WE GET FROM MEDIA AND JOURNALIST.AND ALSO SOMEWHERE WE GET TO KNOWN.OUR MEDIA PAGE IS STILL NOT COMPLETED,THERE IS A LOTS TO BE DONE IN GHANA MEDIA WORLD PAGE.FOR THE MEAN TIME WE PUBLISHED NEWS,WE ADVERTISE FOR PEOPLE,ETC.LISTEN TO MANY RADIO STATIONS IN OUR PAGE BY CLICK.
READ MORE @ WWW.GHANAMEDIAWORLD.COM
CONTACT OF MEDIA AND ADVITISED IN OUR WEBPAGE ,IF YOU NEED PROFECTIONALS RADIO STATION LIVE STREAMING FOR BROADCASTING TOOLS PLUS WEBPAGE,DOMAIN,WE ARE NUMBER ONE PROFECTIONALS TO HELP YOU,FOR QUETIONS,DONATIONS,CONTACT OUR E-MAIL ADDRESS  ghanamediaworld@gmail.com
SHARE OUR PAGE AND LIKE US IN FACEBOOK,INSTAGRAM,WHATSAPP,PINTEREST,YOUTUBE,LINKEDIN.
WE ARE NUMBER ONE TRUELY MEDIA.
Comment Below
comments